Playtex Baby Manual Breast Pump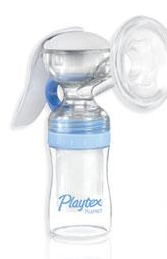 For a hand pump, I found that the Playtex Baby Manual Breast Pump was easy to use, effective at expressing milk, and easy to put together. I like that they include two types of bottles to use with it (that youcan pump right into)- the drop-ins and the Ventaire. The Soft Comfortmassaging breast cups are definitely more comfortable than Medela's andthe air cushions are nice and soft so I found it gentler on mybreasts. I also appreciated the angled cup neck which prevented milk from dripping out when I put the bottle down.
I did have two issues with it, though.
The way you have to hold the pump doesn't make it very comfortable to pump for more than a minute. It's supposed to be ergonomic, but I didn't find it to be that comfortable. Also, there are a few pieces to take disemble and reassemble to clean. Fewer parts means faster and easier to use.
For the seldom pumping, I think the Playtex Baby Manual Breast Pump is a good, affordable option. It retails for $41, but for a few bucks more, you can get the travel bag and a few bottles.