Kevin James talks potential baby names and his non-functioning breasts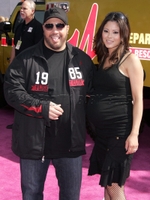 Since he named daughter Shea Joelle, 4 weeks, after his beloved Mets' home stadium, Kevin James promised his wife Steffiana De La Cruz first dibs on naming their next child. Her choice, though, may skew more towards entertainment than sports, he reveals on The Late Show with David Letterman.
I told her she can name our next child after something she likes. I think we're looking at a Grey's Anatomy coming out.
Kevin and Steffiana also have an older daughter, Sienna-Marie, 21 months, and Kevin says fatherhood the second time around is a lot less nervewracking.
I was so nervous with the first child, taking her home from the hospital and everything and you kinda loosen up with the second child a little bit, which is nice. The first child, I remember they just give it to you at the hospital, you're supposed to put her in the carseat and drive home. And I was so nervous. I was 10-2 on the wheel in the right lane 30 miles an hour on the highway with the flashers going. Second kid, I had the top down. I was steering with my knees. I think I hit a drive-thru. I didn't go straight home.
As for being a hands-on parent, Kevin says he gets involved, but is glad he doesn't have to breastfeed, although Shea might want him to.
My wife does the breastfeeding, thank God. It's awkward because at night the baby will sleep with us and my wife will leave in the middle of the night right after the breastfeeding and the baby's still hungry and she'll roll over and just look at me. I'm like, 'No, no. These don't function.' She doesn't believe me. She's just looking at me like, 'If you don't want to give me any, that's fine. Those are bigger than mom's.'
Steffiana's breasts were sore for a bit from feeding, and a nurse advised her to stuff a bag of popsicles in her bra to alleviate the pain, an idea of which Kevin approves.
I'm thinking, 'Wow! Now I really wanna get in there.' There's no better combination in the world than a boob and a popsicle.