Catherine Zeta-Jones: Family is my life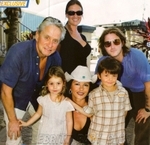 When asked how she balances work and being mom to Dylan, 6, and Carys, 4, Catherine Zeta-Jonessays she doesn't. That's because one will always trump the other inimportance.
I hate to say the word 'balance' when it comes to myfamily and children because at the end of the day, that is my life andeverything else is a bonus.
Source: Us Weekly, July 30 issue, pg 76