See Kai Run is helping little walkers across the globe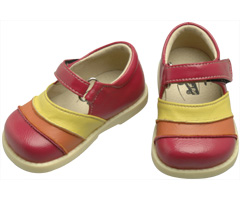 In its continuing commitment to sharing its shoes with children who need them most, See Kai Run Footwear, favorite of celebrity moms and dads like Ben Stiller and Christine Taylor, as well as Dave Grohl, is once again teaming up with Soles4Souls with a donation of over 10,000 shoes. Soles4Soul, the international charity dedicated to providing free footwear to disadvantaged people around the world, will distribute the donated shoes – with a retail value surpassing $350,000.
See Kai Run shoes, which are hand-crafted from supple sheepskin with padded collars and a breathable leather lining, will make their way to children in poor areas of Honduras and Sudan. For more information about See Kai Run, please visit us at www.seekairun.com.
Individuals, schools and other groups can do their part by coordinating a 'Gently Worn' Shoe Drive. To learn how go to www.soles4souls.org.