Jaime Pressly's good luck charm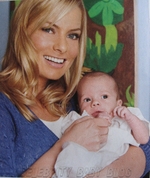 Emmy nominee Jaime Pressly didn't win the award last year, but she didn't have her good luck charm then – her son Dezi James, 10 weeks. The My Name is Earl star hopes Dezi will help her convert her nomination into Emmy gold this time around.
It's very surreal to be laying here in the Bahamas overlooking theamazing view and have my son on my chest asleep and to findout that I got nominated – it's pretty great. They say babies bringgood luck, so who knows, maybe he will bring me luck. He already has.
Source: People