Tori Spelling talks about Liam's biggest fan, Coco Arquette
Liam Aaron McDermott, 4-months, enjoyed his first "little love-fest" recently with fellow celebrity baby Coco Arquette, 3. According to Liam's mom, actress Tori Spelling, Coco — daughter of Courteney Cox Arquette — recently met the baby while Tori was visiting a neighbor of the Arquette's, and the two instantly hit it off.
He loves girls already. He had his first make-out session…[Coco] came out, and she and Liam had a little love-fest. It was really cute, and she was kissing his head, and I was like 'Hun! Liam and an older woman!' So maybe it won't be Suri or Shiloh — It will be Coco.
Tori recently shared that she has shed 22-lbs since giving birth and is halfway towards her target weight of 115-lbs. The former Beverly Hill 90210 actress admits she was discouraged not only to learn that the weight she gained while pregnant was more than simple fluid retention, breastfeeding did not spark the dramatic weight loss she had hoped for, and her postpartum body took her by surprise.
I thought I looked heavier after I had the baby. [The bulge] left the stomach area and shifted into areas I didn't know could gain weight. I was like 'Uh-oh!'
Now, Tori works out 2 to 3 times each week with a personal trainer, and faithfully abides by the NutriSystem Nourish weight loss program, supported by Dean's sister and Liam's nanny, who are both on the plan with her. Although she's seeing some dramatic results, Tori says she doesn't feel the need to return to her ultra-svelte pre-baby form.
When I first started it was hard; I'd never had to diet before. So I was like 'Oh, am I going to be able to stick to this?'…I like my curves. I'm happy with the way I look. I don't think about getting down to a size 0 or a size 2 because that was before. I'm a mom now!
The payoff for all that hard work, of course, is Liam — who is now smiling and "is talking up a storm," according to his proud mom. According to Tori, motherhood "just gets better and better each day."
It's amazing. I look at him and I'm like, 'I baked you in my belly!' I love it.
Liam is the first child for Tori and her husband Dean McDermott; Dean has an 8-year-old son, Jack, from a former marriage.
Sources: Entertainment Tonight; US Weekly; People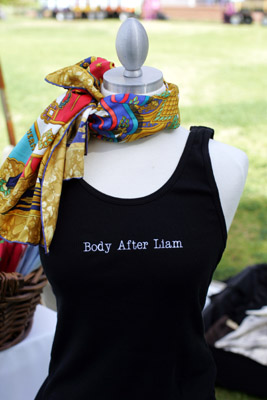 While appearing on the show, Tori wore a customized 'Body After Liam' ribbed tank ($34) by Logan and Blue.