Reader Mail: Joanne wins Sofia Bean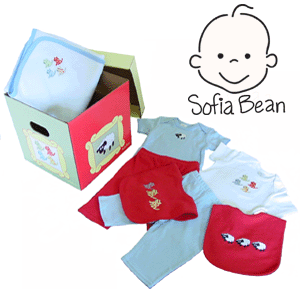 CBB reader Joanne was out of town when her prize from the Third Annual Celebrity Baby Blog Reader Survey came in the mail, but now she's back and emailed to let us know what she did with her Sofia Bean Value Combination Box.
I wanted to let you know how excited I was to be the winner of the Sofia Bean Gift Box. I received my "box" a couple weeks of ago and I was out of town. I just returned and there is was … It is such a unique gifting idea!!

I have a son who would just barely fit into the items, but they were so beautifully made and adorable that I gave them to friends of mine who had just became parents through the gift of adoption. They loved it just as much as I did. The box is so cute that she is using it in her nursery.Sofia Bean will be my gift of choice for baby showers!!

Thank you to you and Sofia Bean!! I read your site many times a day … I LOVE IT!!