Kevin James on playdates with Adam Sandler and encouraging him to have more kids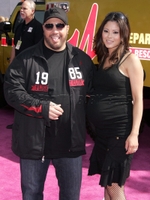 I Now Pronounce You Chuck and Larry stars Adam Sandler and KevinJames are longtime friends, so it figures their kids will be buddies aswell. Kevin tells USA Today that his daughter Sienna-Marie, 21 months,and Sadie Madison, 14 months, often have playdates together.
Sienna and Sadie play. Sienna has beenteaching Sadie how to eat crayons, which is nice. I'm glad my daughterpicked that one up early. And I've been getting on [Adam and Jackie Titone] to catch up and have another one.The wives get along, so it's been a perfect match.
Kevin and his wife Steffiana De La Cruz welcomed their second daughter, Shea Joelle, last month and he says his world revolves around his girls – he's even shot a Sesame Street episode for them to watch.
When it comes to the kids, they control me. The new one doesn't do muchat all except for grunt and cry for food. Which is, oddly enough, thesame thing I do. But Sienna, my older one, we have a lot of fun justplaying and rolling around.
Source: USA Today