Catherine Zeta-Jones on food, manners and if she'll let her kids act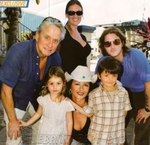 In No Reservations, Catherine Zeta-Jones plays a no-nonsense masterchef who considers microwavable fish sticks a sin, which, she says,isn't too different from her attitude towards them in real life.Shirley Temple-addicts Dylan, 6, and Carys, 4, her children withMichael Douglas, get to choose the family menu on Saturdays, and ifit's fish, Catherine makes sure it's top-notch cuisine.
The kids eat what the grown-ups eat. I'm very much like [my character] Kate about thefish sticks. I always cut the heads off [fish] andgive it to them filleted, but no fish sticks.
Also a big no-no are bad manners. As she has previously stated,Catherine prides herself on teaching her children proper decorum.
We're both very big on manners. I get complimented on that, and itmakes me very proud. I was brought up in a fairlydisciplined environment, and it stands you in good stead, especiallywith spotlights on kids who come from families who are known. But atthe end of the day, if it came down to it, we're strict in differentways. I would give in quicker than Michael. When he says no, he meansno. When he makes a decision, that's it. Done.
As a hands-on parent – she and Michael always read to and tuck Dylanand Carys into bed – nothing is harder for the 37-year-old actress thanleaving them behind for work.
It never gets any better. It's that initial thing of 'Bye, Mama.' Itjust kills me. I arrive in New York looking like a frog because it tookme two hours into the flight to get it together.
Her kids do visit their parents on set. No Reservations director Scott Hicks recalled a humorous incident with Dylan when he mistook Catherine's stand-in for his mom.
He said, 'There's Mummy!' And Michael said, 'No, that's Mummy'sstand-in.' And Dylan said, 'Oh, you mean I can marry her?' It's so sweet. It's every boy's dream.
While she has dreamt of having three children, Catherine says she doesn't need or want that wish fulfilled anymore.
Healthy, gorgeous, one of each, I couldn't ask for more. I wantedthree, and that equation has always been good. But Michael reminds methat I do have a stepson, Cameron [from Michael's marriage to Diandra Luker], so technically I have three.
Cameron, 28, has continued the Douglas family acting tradition andCatherine has no problems if Dylan and Carys do the same – when they'readults.
I've had a great life. I wouldn't let my children, as kids [be inmovies], but when they're grown up, if they really want to do it, I canonly say 'Go for it.' Look at what happened in my life.
Source: USA Today