CBB Exclusive update: Inside Trista Sutter's baby shower
CBB Exclusive update: Trista Sutter has read your comments on her baby shower post, and would like to address the c-section quotation that has caused a debate among CBB readers, stressing that she did not say she will be having a cesarean — simply that her doctor has prepared her for it being a possibility due to the factors Trista outlines below.
In fact, she told Conceive magazine,
I'd like to try a very natural childbirth using visualization and meditation to deal with the pain. But if I'm at the point where I can't take it, I won't have a problem asking for an epidural.
Trista tells us,
Thanks, Sarah, for giving me this opportunity to shed some light on the quote that seems to be causing much debate for many of you out there. I'm always sad to see judgments placed on people based on a sentence or two published in a magazine or shown as a bleep on a television program, but realize that the magazines don't always have the space to go into more detail and that this is a hot topic that has been the cause of debate for many years.

As a student of physical therapy, I actually interned in a field known as "women's health", focusing on the treatment of women with obstetrical, gynecological, and urinary problems that often resulted from unnecessary c-sections, so please know that I don't take this possibility of my own delivery lightly.

In addition, I would like to say that my doctor is wonderful and would NEVER automatically jump to a c-section unless it was absolutely necessary for my health, or that of my baby.

When asked about a birthing plan and my delivery in my interview with US Weekly, I explained that although I know some women like to try to plan out all of the details, I find that having no expectations besides completely trusting in my doctor is the best route FOR ME.

I would love nothing more than to give birth naturally, without even the need for medication, but also live in the real world and know that my extremely low pain tolerance may require an epidural. I also know, based on conversations with my doctor, that the possibility that I will need to undergo a c-section is higher than normal. This is due to the fact that I am of relatively small size, Ryan was 9 1/2 lbs when he was born (leading us to believe that due to genetics, I may be having a big baby), the baby has measured big, and I was diagnosed with gestational diabetes.

Due to all of those factors, especially my recent diagnosis, my doctor was merely preparing me for the possibility that I may have to have surgery to deliver the baby because, as she explained, if the shoulders get stuck in the birth canal, the baby could be in serious jeopardy.

Bottom line, my hope is that my baby will come into this world in the least stressful situation and that the delivery will go well and I will be doing whatever my doctor medically recommends to me to make sure that that happens.

Thank you for your comments and thanks again to CBB for allowing me to clarify what was printed.
Click below for the original post.
Originally posted June 28th: Friends and family, including mother-in-law Barb Sutter, threw reality star and expectant mom Trista Sutter a baby shower on June 16 in Beaver Creek, CO, where she and husband Ryan reside. Trista received lots of baby clothes, including outfits from A Pea in the Pod,and supplies for her first child due, she says, on August 23, and sheis all ready for the arrival (she and Ryan are not finding out the sex).
Everythingis picked out [for the nursery] and ready to be shipped. I'm a hugeplanner…but even more so I'm a fan of surprises, so my love ofsurprises outweighed it.
One thing Trista hasn't done, though, is much clothes shopping.
Because we don't know the sex it's not like I'm seeing cute little girls and boy clothes and feeling like I have to have it.
As she's previously revealed,her favorite part of being pregnant is feeling the baby kick andTrista, who's also experiencing Braxton Hicks contractions, is gettinga lot of those these days.
Thebaby is kicking right now, and I absolutely love it! I'm a worry-wartby nature and when it kicks, especially in the morning and before I goto bed, I think 'Good, you're in there and you're ok.'
One of the main reasons she doesn't mind? She's happy to be expecting at all.
It took us a long time to get pregnant so it makes it that much sweeter. It's my dream to be a mom.
As for coming up with a specific birthing plan and choosing herpreferences for her delivery, Trista says she's not concerned, becauseshe thinks she may have to have a surgical birth anyway.
My doctor said if the baby is big because I'm so small, she'll have to give me a c-section.
Source: Us Weekly, July 9 issue, pg 24-25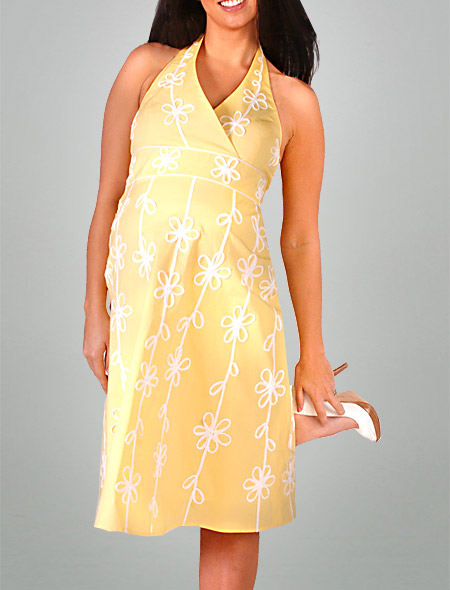 Trista wears an embroidered dress by Lily Pulitzer ($295).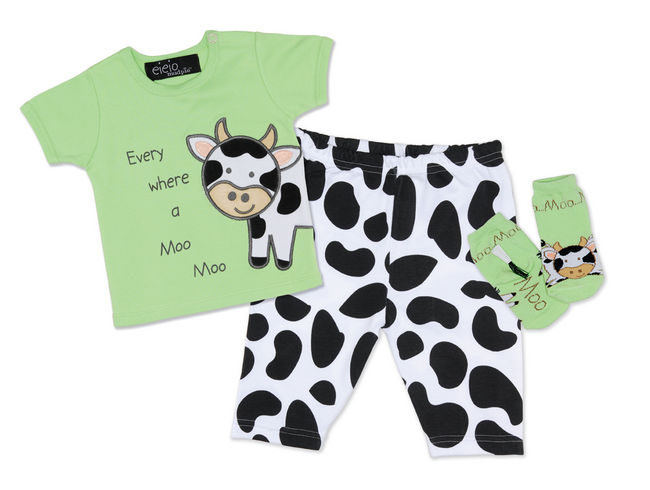 Here, Trista opens an EIEIO Cow Clothing set by Mud-Pie Baby ($25; available in horse set also). The brightly colored tank tops are from Hot Moms Club ($24). Additionally, the baby rain boots she's shown holding in a previous photo are from Gap, but are no longer available.