Princess Mary of Denmark takes a walk around the Fredensborg Palace grounds with her children while husband, Prince Frederik is away on official work. Christian Valdemar Henri John, 21 months and Isabella Henrietta Ingrid Margrethe, 3 months, joined their mother as well as Christian's nanny and their dog, Ziggy.
Scan by Danish Royal Watchers — click for more images.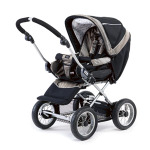 Christian rides in a Emmaljunga City Cross Sport 2 in 1 stroller in plantina.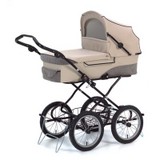 Isabella is in a Odder Cecilia Lux Stroller ($1400).
If you have used either of these strollers please leave us a comment or send us an email letting us know what you thought of them and your favorite features.