Michelle Pfeiffer on racism and adoption prejudices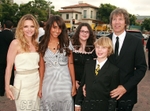 When
Michelle Pfeiffer
signed up to play Velma von Tussle in
Hairspray
, she sat her and husband
David E. Kelley
's children,
Claudia Rose
, 14, and
John Henry
, 12, down to discuss the character's bigotry in order to prepare them for what they will eventually see on-screen. Off-screen, Michelle, 49, knows all too well about racism, having dealt with it firsthand when she adopted Claudia, who is of mixed-race.
I was shocked at the prejudice, voiced in some quarters, over my decision to adopt a mixed-race baby. It's really surprising that people still put so much emphasis on it. None of us are pure anything. We're all a mixture. Claudia is a beautiful child, and some of the most beautiful people I've seen in the world have been of mixed race.
The actress also addresses another prejudice she often faces – adopted children vs. biological children. Michelle, who once taught a reporter a "
great lesson
" by correcting her usage of the term "adopted daughter," believes that issue should be put to rest.
As mother of both an adopted child and my own birth-child, there is absolutely no difference in the huge amount of love I feel for both my children. I always knew I wanted to adopt a child and also have one of my own. There is no difference at all.