Michelle Pfeiffer is never too far from her kids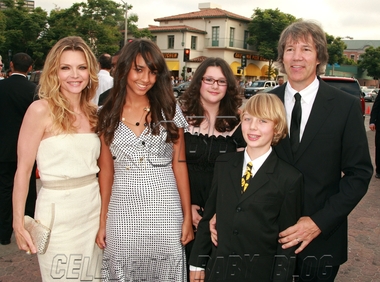 Scheduling is everything for Michelle Pfeiffer. The Hairspraystar, 49, can't stand to be away from her children, Claudia Rose, 14,and John Henry, 12, for more than two weeks at a time and always tries to shapeher work itinerary around them.
When I look at doing something and have to be away from the kids,if it's at a time when they can't come with me, like during the schoolyear, then I need to be able to come back and forth. I need to not beaway from my kids more than a week or two – that's my limit.
Since she and husband David E. Kelley moved their family out ofHollywood in favor of the peaceful northern California countryside,commuting to and from is an issue, but Michelle would never considermoving back.
I think it's helped us as a family to be less distracted. Wewanted more land, and we wanted animals. We were looking for adifferent kind of lifestyle.
Michelle also hopes to teach Claudia and Jack to be "resilient and empathetic."
I think if you can raise kids to embody those two qualities, then they will have a rich and successful life.
Source: OK! Magazine, July 23 issue, pg 32-33