Sadie Sandler worships her dad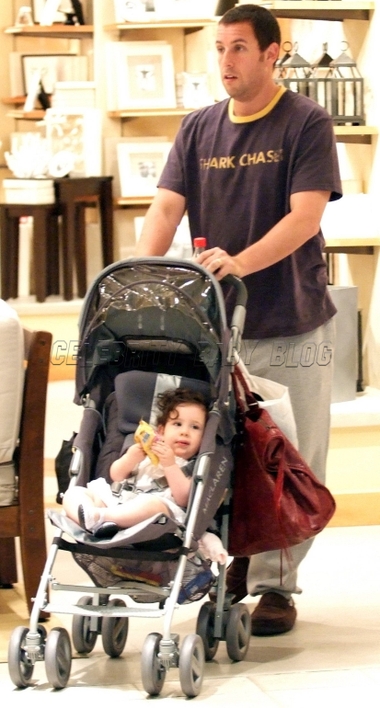 Sadie Madison Sandler is a daddy's girl. Dad Adam tells Jay Leno on The TonightShow that he has dethroned wife Jackie Titone as his 14-month-olddaughter's favorite person.
She's so sweet and cute and I loveher. She's cool. We're very tight with this child – everything is we dois about the kid and the kid now all of the sudden worships me. It wasmy wife the whole time and then the last month or two, it's allSandler. It's like anything I do, the kid wants to do.


The kid used tohate broccoli, so I would eat broccoli in front of the kid and now thekid eats broccoli. And we were going on a little bike thing and we puther on the back of the bike and she didn't want to wear a helmet, and Iput a helmet on and now the kid's like, 'I want a helmet,' and puts it on. I'm justhoping when she's 13, she's okay with using a tampon. I'll do what Ihave to do for her.
Adam and Jackie both sing to Sadie, but their song choices often vary.
Me and my wife are from two different families, so we grew updifferently, so there are certain songs she grew up with that she'spassing on to our child and I have different ones. My wife is alwayssinging, 'Itsy Bitsy Spider." And I'm always singing to my kid, "Iwanna kiss you all over…" My grandfather sang it to my dad, my dadsang it to me. You gotta keep tradition alive.
The I Now Pronounce You Chuck & Larry star is also morecautious of his lifestyle now that he's a father, saying he doesn'ttake as many risks anymore.
I always wanted to live, now I wantto live a lot more. My striving for life is, like, I just behavedifferently now. I wanna be there for my kid when my kid is older. WhenI have shots of Southern Comfort and stuff, I always take amulti-vitamin right after. I had, like, 15 multi-vitamins the othernight and the next morning it was the healthiest crap I ever took in mylife.