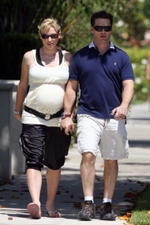 Jason Priestley, who welcomed a daughter with wife Naomi Lowde last Monday, July 2, talked about his first week as a dad during his appearance on Late Night with Conan O'Brien last night. While he didn't divulge his daughter's name, Jason did reveal his nickname for her.
'Kid Pity Piddy,' I call her. She's one week old today. It's very exciting. The first week was unbelievable. It has been reallynice actually. Our daughter's beautiful and she's been really good. I'mgoing home tonight because I can't wait to get back to her.
Conan joked that it was pretty late to fly back because it's "after 1 [a.m.]" (the show tapes at 5 p.m.), to which Jason said,
Yeah, I know. If she's still up, I'm gonna kick her ass.
Photo by Vipix; specifically for use on The Celebrity Baby Blog, Inc.