Lionel Richie, unaware and out of touch, doesn't know if he'll be a grandpa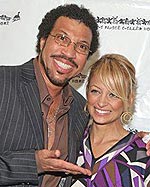 Lionel Richie says right now he's really out of touch with his celebrity daughter Nicole Richie and doesn't know if she is pregnant. He told People,
Grandpa, man, that's wild. I don't know if I'm going to be grandpa, I don't know if I'm ready to be called grandpa.
The music legend is currently busy promoting his latest CD and mocked how distant he and his reality star daughter are while doing their own thing, crying out,
Nicole, baby, call me!
He says Nicole's life is super busy, and that she is "living her life under a microscope, but it's the kind of life you live at that age." He told reporters that he thinks his daughter is "fabulous." He adds,
She keeps apologizing [about being in the news so much], I tell you, she's doing exactly what you're supposed to do… she's living her life. If we had cell phones, MySpace, Internet back then, God knows what my parents would have known about The Commodores.
Nicole is expecting her first child with her rocker beau, Good Charlotte's Joel Madden.
Source: PeoplePhoto Credit: Tampa Bay Blog