Madonna's son in Mish Mish
Madonna is a fan of Israeli boutique brand Mish Mish. She recently stepped out with daughter Lourdes, 10 and son David, 21 months. David was sporting this Rockmania tee ($23) from the current Mish Mish boy's collection.
Mish Mish makes hip, super comfy tees and clothing for infants, boys and girls. Their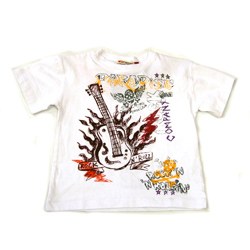 inspiration is pop culture and nature. The line is known for their quality and is quite popular in Europe.
Check out West Village Kids for David's tee, as well as several other super items from Mish Mish.