Poppy Montgomery: "Morning sickness is like a hangover"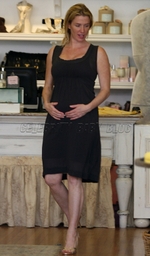 Without a Trace star Poppy Montgomery sat down for some baby talk withPeople this week. The 32-year-old Aussie is expecting her first child,a son, with boyfriend Adam Kaufman in December and credits hersister for making her biological clock tick.
It was [the furthest thing from my mind]! Until four monthsago. My sister is pregnant, so my boyfriend and I started talking aboutit…But I'm in my 30s – I didn't think it would happen so fast.
The actress has just cleared her first trimester and bouts of morning sickness, which she likens to a hangover.
Certain smells – like bacon and eggs – just make you go, 'Oh myGod!' You know what it's like? A hangover. And it lasts three months.
As for cravings, Poppy has been loading up on carbs and is trying to forgo junk food.
Eating [junk] is a really strong habit and it's hard to undothat. But I am into bread a lot more. And I'm obsessed with Haagen DazDulce de Leche.
While Poppy still hasn't gotten word onwhether not her pregnancy will be written into Without a Trace, shesurmises she could hide her bump pretty well if producers opt against it.
We carry files all the time, so there could just be strategically placed files and desks.
The crime drama has also made Poppy paranoid about kidnapping, she admits.
I'mthe worst! I'll have to deal with my FBI issues before [giving birth].It's a total neurosis. Who wants to put that on their kid?
Source: People, July 16 issue, pg 26
Photo by Vipix; specifically for use on The Celebrity Baby Blog, Inc.