Featured Review: L'ovedbaby 4-in-1 Nursing Shawl
Think You Don't Need a Nursing Cover-Up? I Didn't Either…
by CBB Reviewer Reva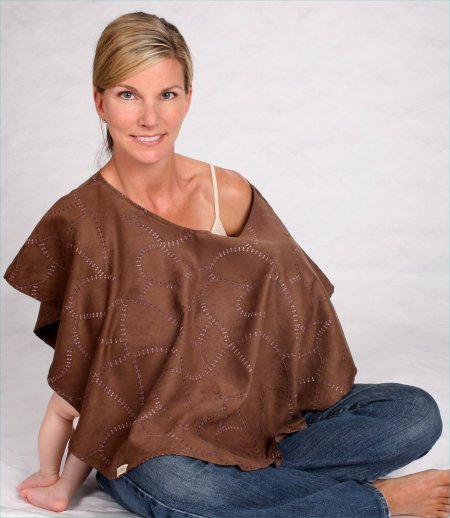 I'm not shy about nursing in public. I nurse any and everywhere, and very proudly. If I feel the need to cover up, especially if I'm not wearing a nursing top with good coverage, I will grab a receiving blanket or cloth diaper from my bag, or the cloth napkin at a restaurant, throw it over my shoulder and part of the baby's face, and that will be the extent of my modesty efforts. When I received L'ovedbaby's 4-in-1 Nursing Shawl, I had thought I would give it a run when out shopping or dining, but that it would be an infrequently used, though nice-to-have accessory.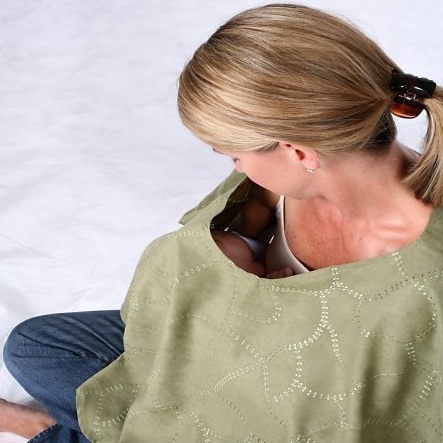 The shawl arrived in Keen Green (a lovely mossy sage green) in a stylish compact pouch, and is made of super fine micro-suede that matches the shawl itself. Great packaging, says my marketing sensibility, and it easily folds back into the pouch. I tossed it on and started nursing 3-month old Leo to see how it would feel if I were actually in public.
The neck opening was plenty generous to see the baby's positioning, I was comfortably and lightly covered up, and the whole thing was so soft and airy that it was non-intrusive. Since it was a particularly hot day, and has been many days since then, I decided to slide some of the shawl between the baby's head and my arm to reduce the stickiness, yet the air conditioning was making his legs cool, so I covered him up with the other end of the shawl fabric. It also multi-tasked as a burp cloth when the baby was finished nursing, and was a buttery lightweight blanket to wrap him in as he fell asleep.
While I love a good sturdy cotton receiving blanket, this material was far more luxe and much more compact in my diaper bag, which has to haul stuff for both a toddler and a baby. On a walk for some local home made ice cream, I used it as a poncho as the night cooled off, and anyone would swear it's just a fashionable cover up. (Unlike most nursing tops, which seem to shout "Yes, I'm breastfeeding!") This is now a necessity that I look forward to using whenever the time is right.
Choose this multifunctional nursing shawl as a well-priced gift for your nursing friends ($29.95 at www.lovedbaby.com) no matter where they live, and buy one for yourself. I'll be using its season-less practicality through the summer in New England, and happily into the winter months ahead.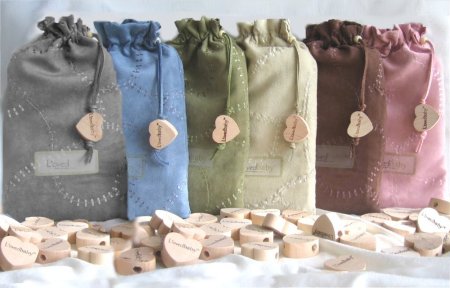 The shawl comes in 6 lovely muted tones. Their newest color is Clay Gray (it's only been out in stores since last month). Other very popular colors this season are the Grand Sand and Out-on-the-Town Brown.
Exclusively for Celebrity Baby Blog Readers: Use coupon code CELEB-BABY for FREE SHIPPING on domestic orders of $75 or more, now through 7/20.
The following readers won 1 of 3 L'ovedbaby's 4-in-1 Nursing Shawls:
Amanda A. who chose Clay Gray
Angie who chose Keen Green
Joely who chose Grand Sand
By the way, the answer to "What's L'ovedbaby's tagline?" is "Make your baby a L'ovedbaby."