Kevin Richardson and wife welcome son Mason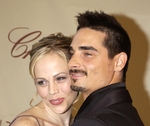 Update: Mason Richardson was born on 4:56 am on Tuesday, July 3rd, weighing in at 8 lbs, 2 oz and 20.5 inches long. Kevin writes,
We are officially parents…

At 4:56 a.m. Tuesday morning (7/3/07), our son Mason made hisentrance into the world. He is a healthy 8 lbs. 2 ounces / 20.5 incheslong and has a head fullof dark hair. He and Kristin are perfect and I am a new man. Thank youfor your positive vibes and prayers.

Peace and love,
Kevin
Click below to read Kevin's response to last week's false alarm.
Update July 1st: Kevin posted a message on his MySpace page to fans — while he thanks them for their well wishes, he reveals that his son hasn't 'hatched' yet.
Don't believe everything you read…

Thankyou for all the love and well wishes. It is not my intention to usethis myspace page to talk about my personal life. I want to use it tokeep you informed of my professional decisions. When I do interviewsfor print or T.V., if I am asked about my personal life, I normallyspeak freely. However, I haven't done an interview in a very long time.I believe there is a fine line to walk when it comes to letting thepress into my personal life. Sometimes it can blow up in your face.

Inmy interviews for "Chicago" in Japan, all of the questions were aboutmy professional life. It was very early in our pregnancy whencomplications can arise, and I did not want to offer up any news yet.Some time after that Brian shared the good news in an interview, whichwas fine. I didn't want to issue a press release about it, because Idon't want to use my personal life for publicity.

As you all know frommy interviews in Toronto, I made it clear that we were trying for achild and obviously I was very excited about it. We were successful.

However, he hasn't hatched yet. His name is not Jared, although I amsure if it was, Jared at WC Management would be honored. Since therumor mill has been working overtime, I will let you all know when hearrives and what his name is, O.K. Thank you for your understanding.

Peace and love,

Kevin
Originally posted June 29th: Backstreet Boys fans are writing to tell us they received MySpace messages this morning saying that former member Kevin Richardson and his wife Kristin welcomed a son last evening. He is apparently named Jared — however, this is all still rumor at this time.
Kristin was due on June 25th.
Thanks to CBB readers Aline and Molly.