Brooke Shields talks self-confidence, baby weight and Tupperware as a baby toy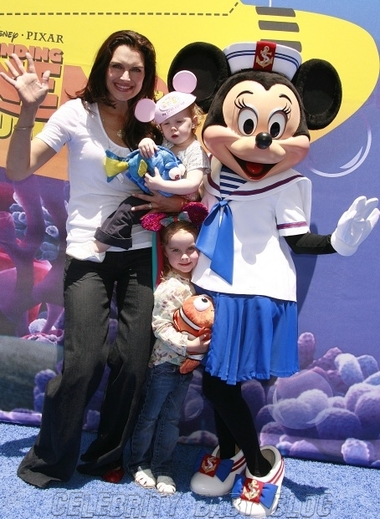 Brooke Shields threw a Tupperware party last week in support of her andthe brand's Chain of Confidence campaign, which is dedicated topromoting self-confidence in girls and forging female friendships,something she's hoping to instill in her daughters, Rowan, 4, and Grier,14 months, with husband Chris Henchy. The actress, 42, talks to OK!about the difficulty of raising her daughters in an image-obsessedcity, let alone culture, how she lost that baby weight, and, of course, Tupperware.
On raising kids in Hollywood: I think it's hard everywhere.It's hard when you're going to parties that are bigger thanDisneyland! I find myself falling into it, but I'm not going to fallprey to it anymore. I pulled back and said, "I'm never doing it again.You pick three friends and we will do one activity together – a movie,boat ride, whatever – and that's it."
On not spoiling her kids: You have to remind yourself. Mydaughter comes home from school and says, "So-and-so has this." Now itgets to the point where, when she gets a toy, she asks me if she cankeep it. I'm like, "Let's go see if you can have anything else like it.If you don't, you can. But if you have one more toy, you need to giveanother one away." I'm sure she gets afraid to attach to anything,which is why she'll be in therapy later and that will also be my fault![Laughs] But I do what I can.

On instilling strong values: You have to, because of thethings they come home with from school! Just at 4 years old, Rowansays, "Does this make me look fat, Mama?" I was like, "Excuse me?" Shegoes, "Well, that's what so-and-so said in school." Wow!
How she dealt with the situation: We really had to talk. I sat down and Isaid, "Now what does that mean to you?" She didn't understand theconnotation of it, but I took her through it from start to finish. Thenwe started in on the inside versus the outside – these cliches. Theyreally need to be embedded into these kids. They're fine inside thehouse, but it's the minute they leave the house. My older one, Rowan,she'll say, "You look really beautiful, Mama." And it's important if Ilook like a princess, because princesses are so big. You have to definereal life. It's hard!
On dropping the baby weight: It was easier thesecond time. Running after the 4-year-old is a huge task. I spent thefirst three months of my second pregnancy on Broadway [in Chicago], soI was dancing four hours a day, every day.
Advice to moms trying to lose weight: It's an old saying, butit took you nine months to get that way – it's going to be a yearbefore you're at least at a place where you're even really strongenough. You have to give yourself a reality of time.
On Tupperware as a baby toy: They gave me a ton of it, and Iwas so thankful! It's good for a baby toy! I stick my baby in front ofthe open drawer and she's good for 30 minutes. That and a wooden spoon- they bang and clank and stack, and then I can make phone calls or getmy e-mails.
On Tupperware and what she hopes her kids learn from it: Ilove them. I think it's kitsch and cool now. It started off asfunctional. Then people made a little fun of it. But I've seen so muchvideo of women who have made full-time careers of this. They've gonefrom being stay-at-home moms who didn't think that they were capable ofanything, to this whole community of women. I love seeing that. That'swhat I believe in – I want my daughters to understand that as they growup.
Source: OK! Magazine, July 9 issue, pg 40-43