Cute Baby Shoes Contest: Design a Cute Baby Shoe, Win Cute Baby Shoes!

Soft, comfy and of course cute! Soft baby shoes have been popping up all over the place, however, Cute Baby Shoes offer unique qualities. Their shoes feature black suede soles to hide the dirt, padded insoles to offer an extra layer of protection but still allow baby's feet to grip the ground, cotton lining – so baby can wear without socks, and buttery-soft leather. They offer great styles for both boys and girls but are always looking for new designs.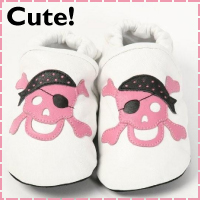 Submit your idea for a new design for Cute Baby Shoes. They will be choosing 2 new designs to be made and added to their line. The 2 winners will receive 4 free pairs of shoes of their choice, and of course 1 pair of the winning design! Your designs will also be manufactured for their collection. There will be 2 runner-up prizes, which the winners will receive 2 free pairs of their choice, and 1 pair of the winning design. Everyone who enters will receive a one-time discount code.
To enter, you need to fill out the entire entry form. When suggesting a new design, please be as specific as possible. For example, if you suggest a cat, tell us the color of the cat, its features, the background color, etc. If you suggest "cat" and someone else suggests "pink cat with black ribbon on head and blue eyes" – they are more likely to have their answer selected. Only original ideas will be considered- copying another company's design is not allowed.
You may enter multiple times. Competition open to outsdie of the US.