Bridget Moynahan at the drugstore
Pregnant actress Bridget Moynahan, 36, stopped at Long's drugstore to pick up some essentials on Monday. She expects her first child next month — she and Tom Brady know the sex, but aren't sharing.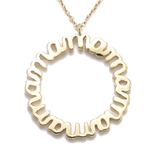 Bridget wears Tali Gillette's large 'mama' pendant necklace in 14K gold ($550).
For CBB readers only — email Tali@TaliGillette.com with your choice of mama necklace (pendant or bar; gold, white gold, diamond) and receive 15% off!