Blue Heeler Lisa McCune talks about motherhood and the difference between parenting boys and girls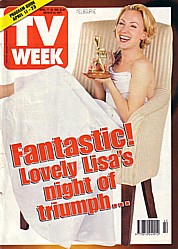 Australian actress, Lisa McCune, most famous here for her role in local drama, Blue Heelers (she won a TV Week Logie for her role as Maggie Doyle) talked to Australian Women's Weekly, this month about motherhood and her three children, Archer James, 6, Oliver Timothy, 3 1/2, and Remy Elise, 2. Here are the children/parent related highlights;
Lisa talks about her relationship with Remy and how it is different than having a boy.
She's like my little shadow. She just goes everywhere I go, she loves being with me. Archer's energy is just amazing. These boys need to be out of the house by 9am and running in the backyard, or collecting shells on the beach down the road, where we go a lot. But Remy will sit down and play in the kitchen, and do things quietly on her own. We will have to lock her up when she starts wanting to go out with her big brothers' friends.
Lisa also talks about her husband, Tim Disney as a father.
Tim's such a great dad. It's kind of like living in wonderland with Tim, even for me. There's always some crazy activity going on. He's really fun.
Click below for more.
Like many other celebrity parents, Lisa and Tim try to organizetheir work so that one of them is always at home for their children.
Timand I try to alternate work, but we got caught with Sea Patrol. Mumcame to Mission Beach to help out with the kids. As far as industriesgo where you can have children and work, we're probably doing quitewell, but there are times in the future when I'm sure it will bedifficult and I will have to say no. I could never do a Heelersschedule again with a family, but we want to take the kids wherever wework. They get a lot out of it and the experience, at this age, isfantastic. They're happier being with us. It's probably an education initself. However, I'm sure the time will come when, socially, they won'twant to. But for now, it's exciting and they have a ball. InQueensland, they played with coconuts and sticks on the beach for sevenweeks and loved it.
Lisa does however mention that they are pretty normal and her life is as hectic as any other mother's.
Thescreaming that goes on around five o'clock here – it's usually from me.It does get pretty noisy. Mum bought me a book the other day, called BeCalm (check out some similar titles here). My parenting self-help section takes up nearly the whole bookshelf.
Source: Australian Women's Weekly. June issue. p. 76-80.