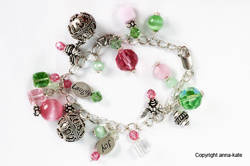 Do you not enter our giveaways because you think there's no chance of winning? Well, like many of our giveaway winners, CBB Reader Amy from Ontario, Canada said she never wins anything, but she is another excited winner of our Third Annual Reader Survey/Giveaway. She won Anna Kate's one-of-a-kind "Queen Bee" Whimsical Sterling Silver Charm Bracelet (a$110 value). She wrote to us:
After a rather rough couple of weeks I was overjoyed to see a treat in my inbox this morning!
I won an Anna-Kate Queen Bee bracelet!!!! I am so excited, I literally never win anything so I never usually bother entering stuff but I took a chance this time and wow, did it ever make my week!

I read the blog a couple of times daily to keep me going at the office, keep up the great work!! You guys do a fabulous job on the site and I really liked the re-design and had no problems with it. I love all the Jennifer Garner and Violet stuff and how you guys keep a 'clean' site. Its a nice change from other sites, no nastiness.

Thank you Celebrity Baby Blog!!! It made my day!