Larry Birkhead's first Father's Day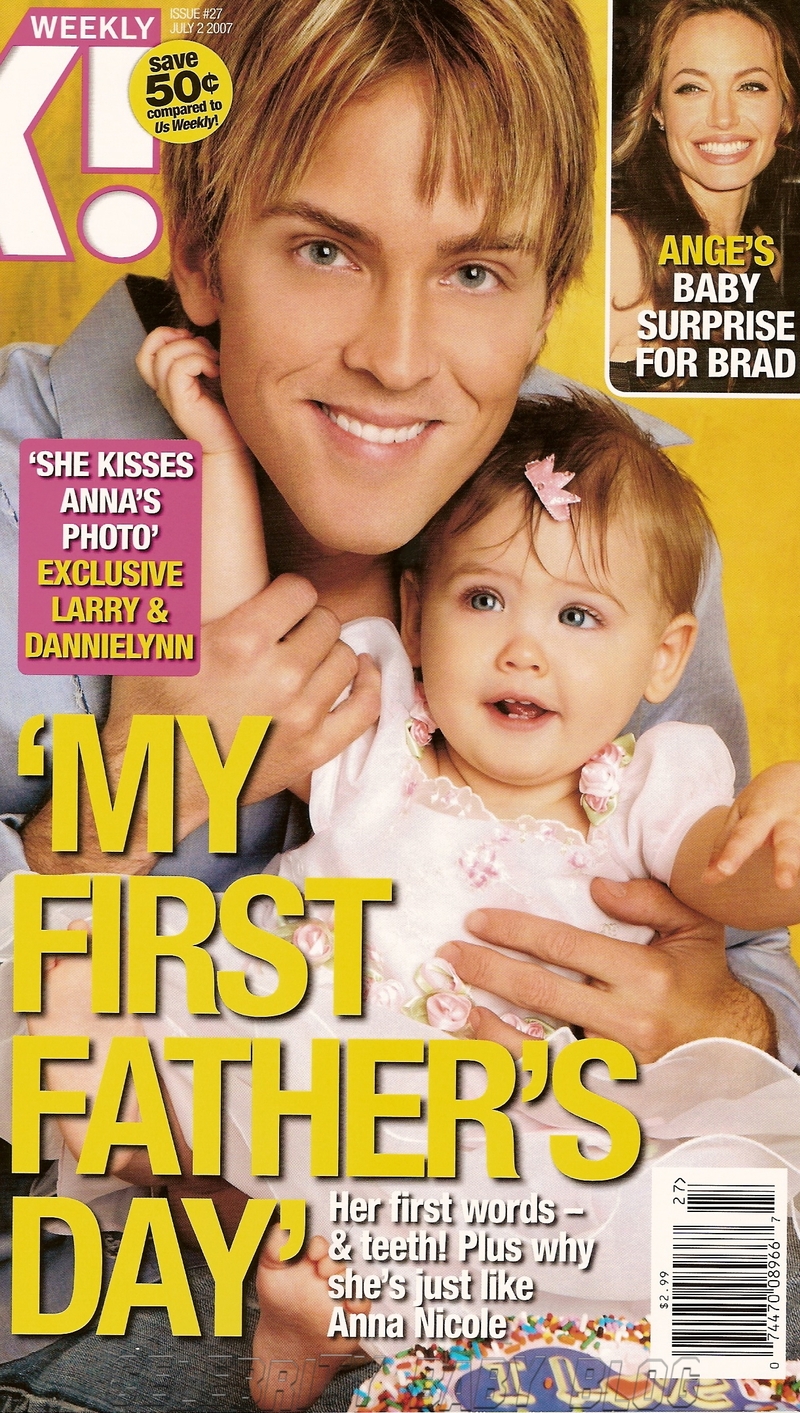 Sunday, June 17th marked the first Father's Day for
Larry Birkhead
and he and daughter
Dannielynn Hope
, 9 months, celebrated in style at
Anna Nicole Smith
's L.A. pad, into which they're planning to move. In anexclusive interview with
OK!
Magazine, Larry gave all the details onthe big day, Dannielynn's new milestones and how they remember Anna Nicole.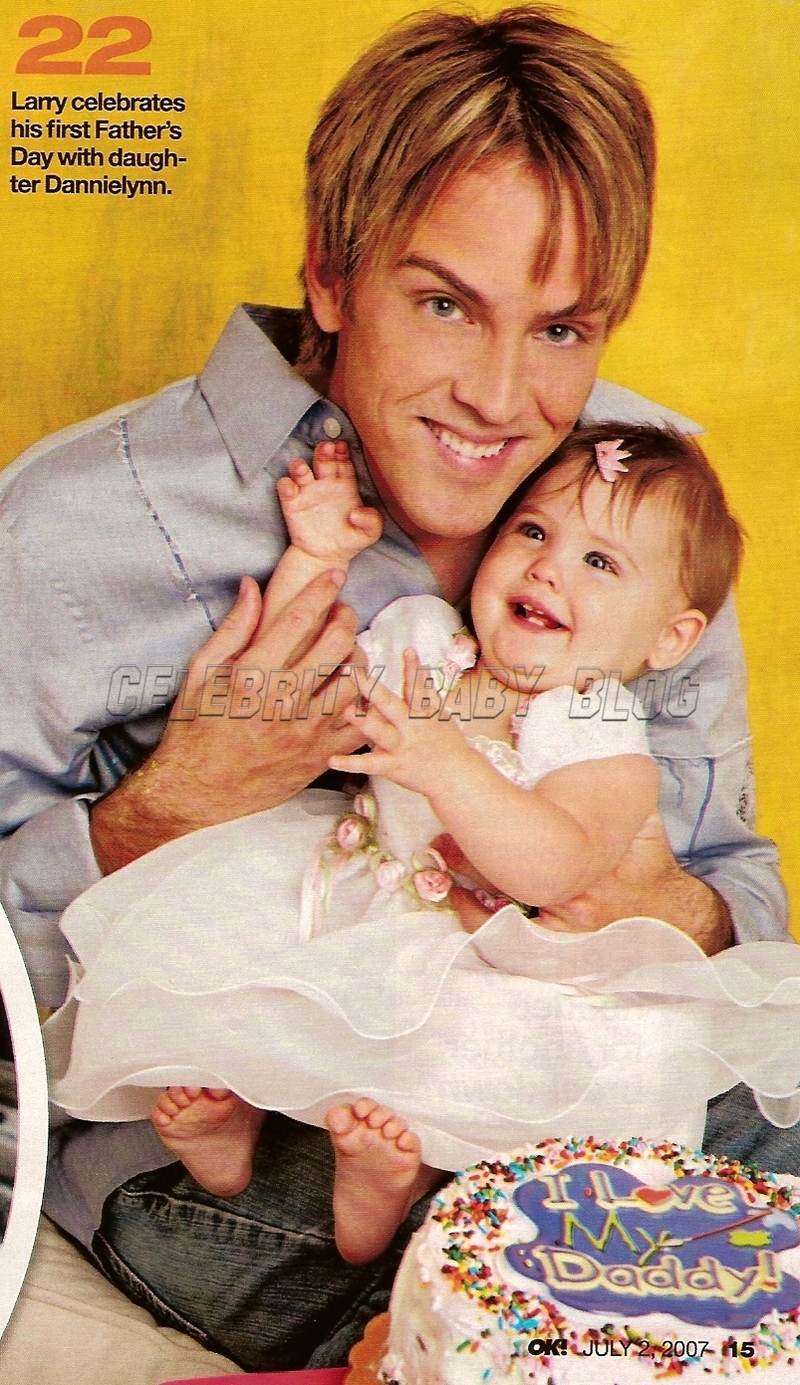 Read on for highlights, photos, and to see what Larry's sister,Angela Birkhead Johnson, has to say about her brother and new niece.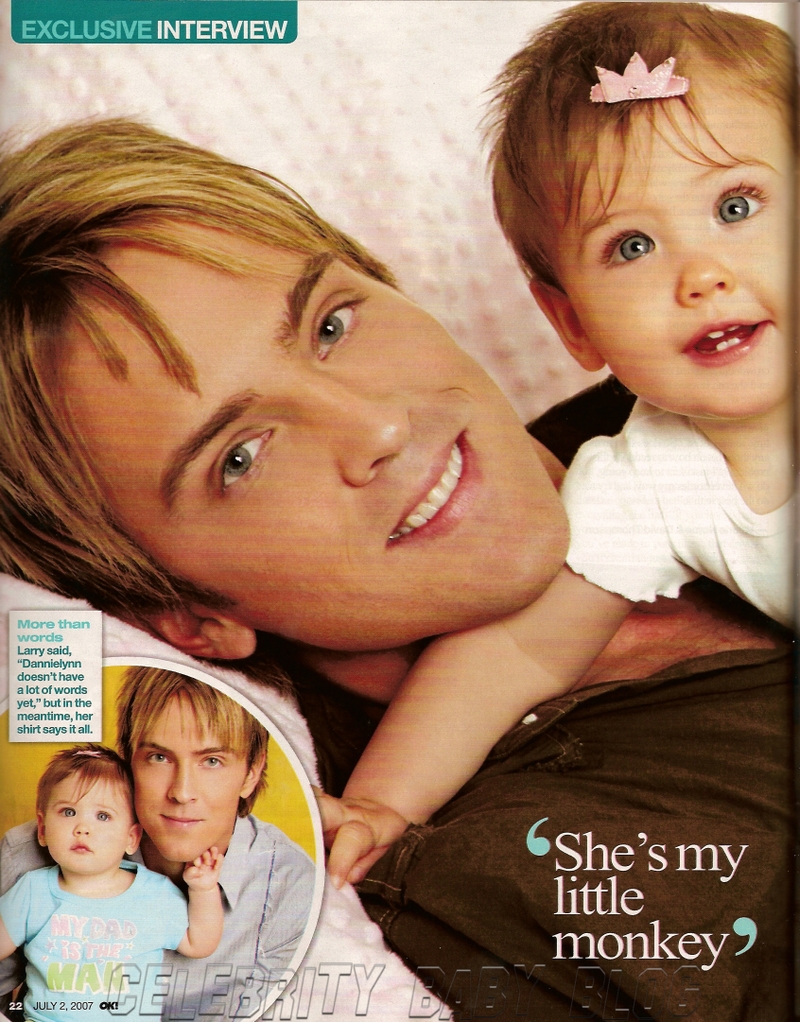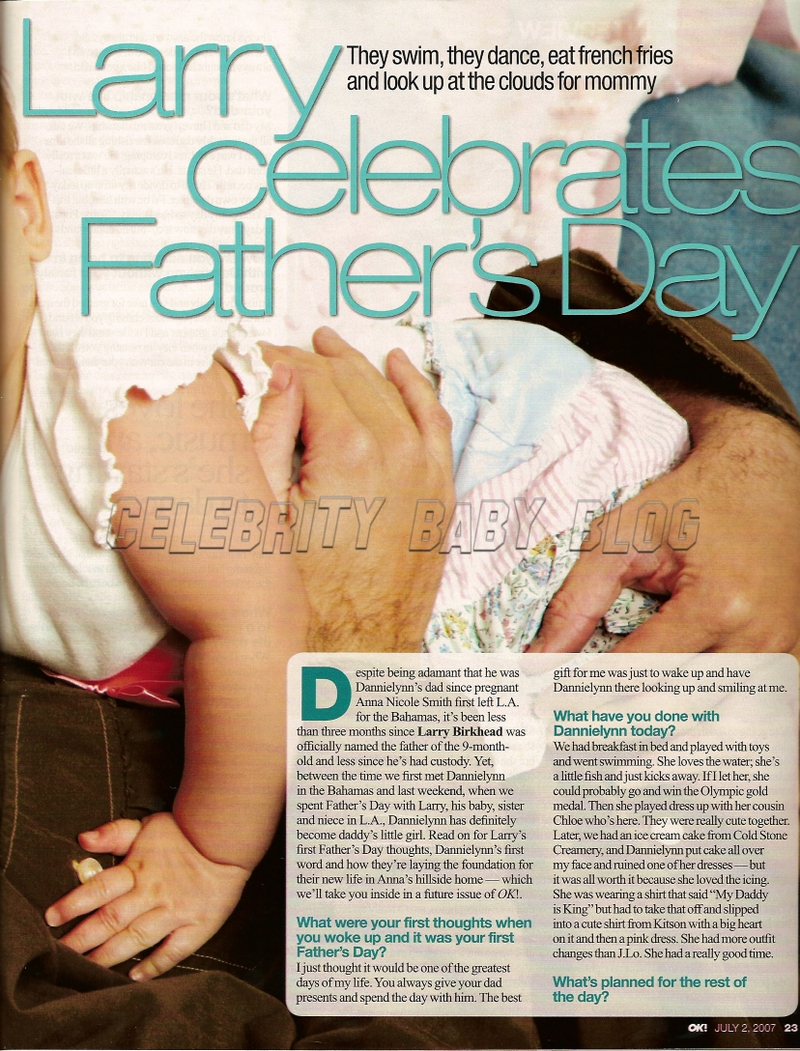 Waking up on Father's Day
:
I just thought it would be one of thegreatest days of my life. You always give your dad presents and spendthe day with him. The best gift for me was just to wake up and haveDannielynn there looking up and smiling at me.
Sharing Father's Day with his dad: He's actually a little jealousbecause I have to divide my time up today for my own daughter. I'd bewith him, but this is kind of my day, so I had to say, 'Sorry, Pops,today's my day now too,' but he understands.
How he and Dannielynn spent the day: We had breakfast in bed and played withtoys and went swimming. She loves the water; she's a little fish andjust kicks away. If I let her, she could probably go and win theOlympic gold medal. Then she played dress up with her cousin Chloewho's here. They were really cute together. Later, we had an ice creamcake from Cold Stone Creamery, and Dannielynn put cake all over my faceand ruined one of her dresses – but it was all worth it because sheloved the icing. She was wearing a shirt that said, 'My Daddy is King'but had to take that off and slipped into a cute shirt from Kitson witha big heart on it and then a pink dress. She had more outfit changesthan J.Lo. She had a really good time.
Dinner plans: We're going to finish the night with dinner, and I'mgoing to let her have her first French fry. It's the only food she canmash up with her teeth.
On teething: She has two on the bottom, two on top and is getting twolittle ones coming in on top. She's doing really well. She's not evenbad teething. She's really being a good sport about it. She'll bite onmy fingers, and those teeth hurt – they're like little saws. It seemslike every day I look at her mouth, there's a little piece of whitepopping out of her gums, and it's so cute. It might be hurting her, butif it is, she's not letting on.
On baby foods: They have graduated stages of baby food, and she's upto #3. It's a lot of kiddie-type gourmet meals like lasagna with meatsauce, macaroni and cheese, and she likes to eat bananas right out ofthe peel; I call her my little monkey now.
On her first word
:
She says, 'ging, ging, ging' over and over. Whenshe sees me, she starts kicking her feet and stuff, but she doesn'thave a lot of words yet. I keep coaching her to say, 'Dada,' but ithasn't worked out yet. I think it's going to be any day now.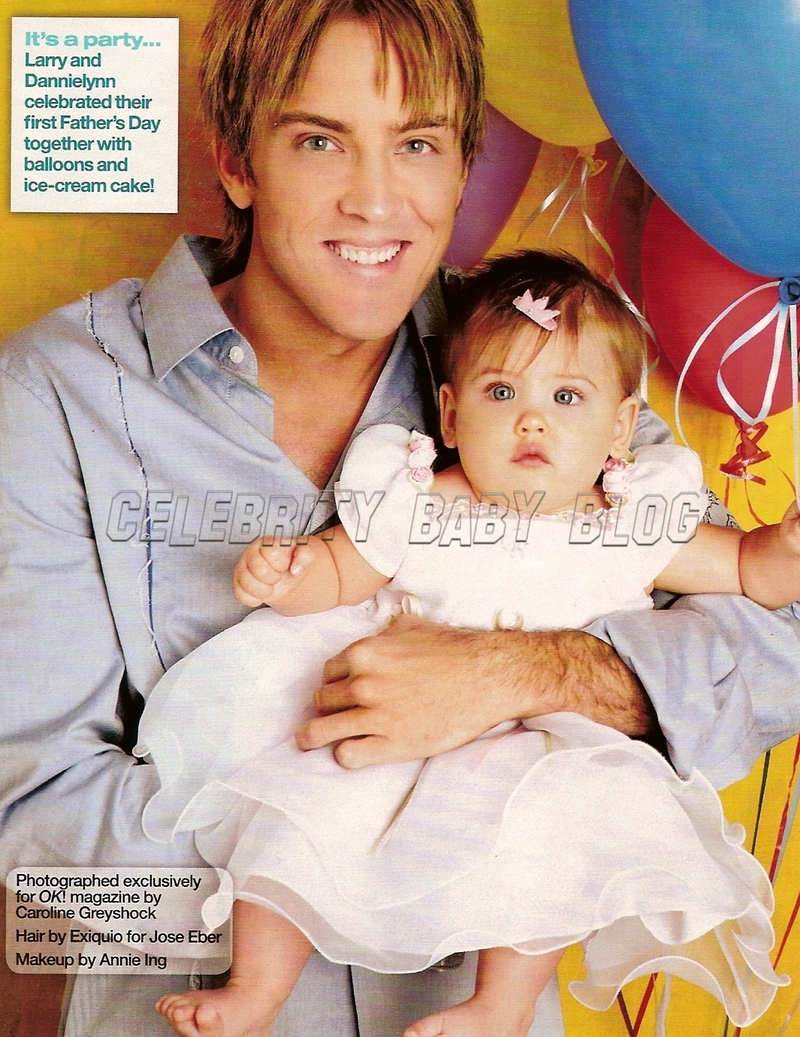 Remembering Anna: I show her pictures of Anna all the time, andshe grabs them! I show her photos of Anna on my BlackBerry, and shekisses the phone and tries to put it in her mouth. She doesn't do thatwith other photos, so it's really sweet. I don't know if it's somethingshe recognizes, but I tell her about her mommy all the time and we goout and look up in the clouds.
On having a nanny: When I hired a nanny, I didn't get her to be areplacement or to mimic a female influence. She's just there to assistme, not to take over any parenting. People think a nanny is areplacement for a mother, but that wasn't my goal and it isn't thecase. I want to be there for all the milestones and experience allthose things. I'm really hands-on, like too hands-on with my hand onthe baby, a hand on the cell phone, a hand on the diaper. I'm getting alot better at multitasking and learning to do more with one hand. Theold invention of the speakerphone is becoming a new friend again. Butit's a good balance, and just because I have a nanny doesn't mean thatI'm not constantly changing diapers. I have a supersonic sense ofsmell when it comes to diapers.
Dannielynn's got rhythm: She has an ABC school bus that is now herfavorite toy, and she kicks her legs to the ABCs and really kicks whenI start singing along with it. She loves music, and she's starting todance. She gets crazy when she hears singing. She loves it so much Ithink she's going to be in the music business or something. She's gotlots of rhythm.
On playtime: I think I'm her favorite toy in a way. I say thatbecause when I put her on my knee, she bounces up and down like it's ahorse. That's one of the only things that makes her smile every singletime. And she likes to play rocket. I say, '1,2,3' and I shoot her uplike a rocket. She knows that three comes after two, and she waits forit and her eyebrows go up. When I bring her back down, I act like I'msnoring and she taps me on my face to wake me up.
On Dannielynn's features: As she's getting a little older, I'm seeingmore of me than I did when she was a little baby. More people aretelling me she looks like me now that they can see the side-by-sidecomparison, but I see Anna in some faces she makes at me and say,'Whoa, that's your mom.' And sometimes I see Daniel. Her hair isgrowing in, with some parts short and some long, and when it's parteda certain way, I see Daniel, so it's a good mix. She definitely has hermother's legs and feet and toes exactly. She has long legs and chubbylittle toes exactly like Anna's; it's like a mirror image. It's reallyincredible. And I think her lips are her mom's lips; especially whenshe pouts, she has her mom's lips. She also gets what she wants exactlylike her mom always did as soon as she'd pout.
On Howard K. Stern, who was in town on business: He and hisparents bought me a Father's Day gift and a present for Dannielynn, andhe still has a car seat in his car so he drove her and the nanny frommy apartment to Anna's because I had to drive the moving truck. He'sbeen really supportive, and we're civil for the sake of Dannielynn.
On the paparazzi: I was a photographer and I understand they needa picture, but when they're running you off the road and you're in thecar with your daughter and they're putting lenses up to the car so thatit's like lightning in the car, it gets to be too much. I miss thequietness, but it feels good to be back home.
On moving into Anna's house: I'm taking it one step at a time, anyday now hopefully. I've been working so many nights trying to get itready and perfect for Dannielynn. I want to get it so there's a pieceof Anna but also a piece of me so that I'm not constantly seeing hershadow. I'm getting Dannielynn's nursery ready. She's going
to be thefirst baby with a plasma TV. I've got her a little music system and allthe little toys that were in her mom's hope chest.
Larry's sister, Angela, brought her daughter Chloe, 3, from Texasto visit Larry and Dannielynn and here's what she had to say aboutseeing her brother as a father.
Larry as a dad: I always knew Larry would be an excellent fatherbecause he's so good with all of our kids. My kid was the firstgrandchild, and he just took to Larry. My son (Justin, now 16) waslike Larry's little brother. They even look alike. Larry is my son'shero. If he sees Larry wearing a shirt, he wears the same shirt.[Larry's] so much more comfortable now. I think he has gotten in thegroove of things and he's so comfortable feeding her and changing herdiapers.
Larry always wanted to be a dad: Larry always talked about wantingkids someday. Once his career took off, he always wanted to settle downand have children.
On Dannielynn: She looks so healthy and happy and has littlechubby cheeks. She was so happy just being on Larry's stomach andlooking at him. Her overall demeanor is excellent. You would neverthink she'd been through everything she'd been through.
Parenting advice: Just lots of unconditional love.
Source: OK!, July 2 issue, pg 22-25