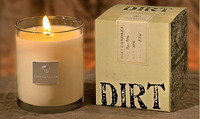 CBB Reader Kim from Texas is a mother to two young boys and is excited that she won the $50 gift certificate in our Third Annual Celebrity Baby Blog Reader Survey/Giveaway. She wrote:
I am very excited to say that today I received my $50 gift certificate from DIRT candles which I won in your survey contest. I am an avid reader of your site and love to learn about products for children and for mommies. I have two boys ages 1 and 3 years old and like to keep on top of the latest and greatest. I am looking forward to ordering candles through the DIRT candle website.
Until recently, I was a major fan of Yankee Candle Company but then I discovered DIRT Candles.They are not only deliciously scented but makes me feel a little betterabout burning them because they are made of biodegradable soybean waxand natural scents. Check out my review of them on the Celebrity Baby Blog Reviews.
Exclusively for Celebrity Baby Blog Readers: Enter promo code CBBL10 for a free refillable candle lighter (a $10 value) with every purchase at www.DirtCandles.com