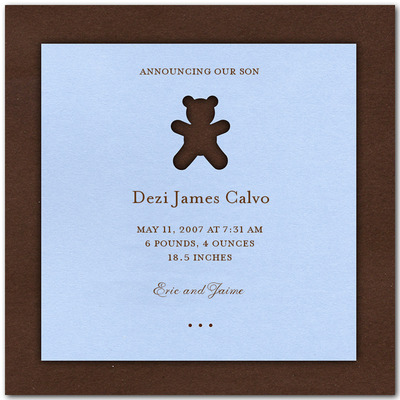 Friends and family of Jaime Pressly and Eric Calvo will soon be receiving an adorable and stylish surprise in the mail — the birth announcement for the couple's 5-week-old son, Dezi James Calvo.
The new parents chose an announcement from Tiny Prints, deciding on the Blue Chocolate Bear style by Simply Put by Ashley Woodman, pictured at left. The design features a diecut teddy bear on a blue card mounted on a chocolate brown card. (This announcement is very similar to the design Danielle and Josh chose for Anya's birth announcement.)
The announcement is in keeping with the invitation Jaime used for her baby shower, also purchased from Tiny Prints, in the Boy Belly style.
Jaime is just the latest mom to announce her celebrity baby birth with Tiny Prints; Gwen Stefani, Debra Messing and Ming Na are all clients of the Northern California stationery company.
Note: Announcement shown is not Dezi's actual announcement. We guessed at their wording, based on Dezi's birth details.