CBB Exclusive: Our interview with Skye Hoppus on motherhood and her new book, Rock Star Momma!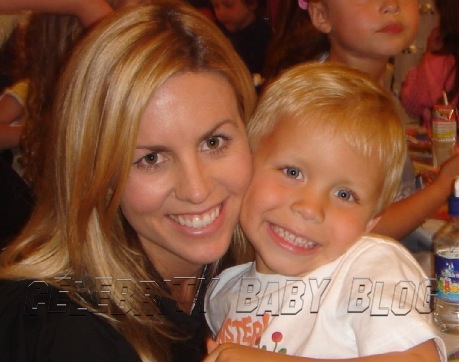 We chatted with clothing designer and rock star wife, Skye Hoppus, on parenthood, her favorite baby-related items, her Childish Clothing maternity and kids' line, what it's like being married to Blink 182/+44 rocker Mark Hoppus, their son Jack, 4, and her new book, released on Tuesday, Rock Star Momma: The Hip Guide to Looking Gorgeous Through All Nine Months and Beyond.
Click Continue Reading for our exclusive interview with Skye.
We are giving away one pair of tickets to the Rock Star Momma book party in Beverly Hills on Thursday evening. To enter, post a comment with the answer to, "What does being a rock star momma mean to you?" Don't worry, if you're not a momma, you can still enter to win! (Make sure you enter your correct email address so we can let you know if you've won.)
Skye's personal photos for use exclusively on the Celebrity Baby Blog.
All week long we will be featuring exclusive giveaways, excerpts, articles and fun quizzes related to Rock Star Momma so stay tuned!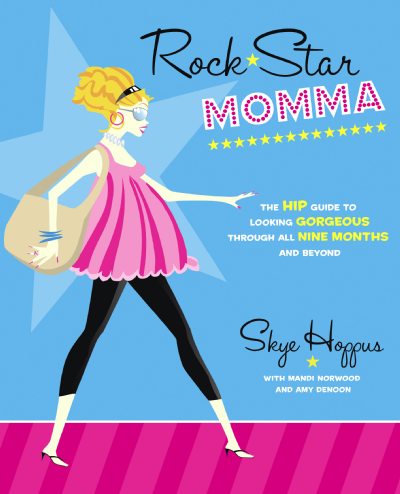 Your upcoming book, Rock Star Momma, has parenting advice from celebrities – who gives advice in the book and what are some of the stand out suggestions for parenthood? Any surprises?
I am truly fortunate to have so many wonderful leading ladies and industry experts as part of Rock Star Momma. I could not have done it without all their great support and advice. Gwyneth Paltrow, Mariska Hargitay, Elle Macpherson, Britney Spears, Joely Fisher, Kimora Lee Simmons, Jennie Garth and many more offer their advice and anecdotes throughout the guide. And representing the best in the industry are Bugaboo, Spanx, Fit Pregnancy, Babystyle, Bella Materna, Belli, Fleurville, Basq, Rodan and Fields, Diaper Dude, Meet Me in Miami, Due Maternity, Pickles and Ice Cream and the list goes on and on.
All of these wonderfully talented people offered such personal tips and guidance on how to look good and feel great during your pregnancy. Mariska Hargitay gives a favorite piece of advice of mine in the beauty section of the book when she advises mothers-to-be to just "embrace" their pregnancy, "swollen feet, rosy cheeks" and all. She says it so well on page 81: "Being pregnant gives you a glow that can't be found in a bottle."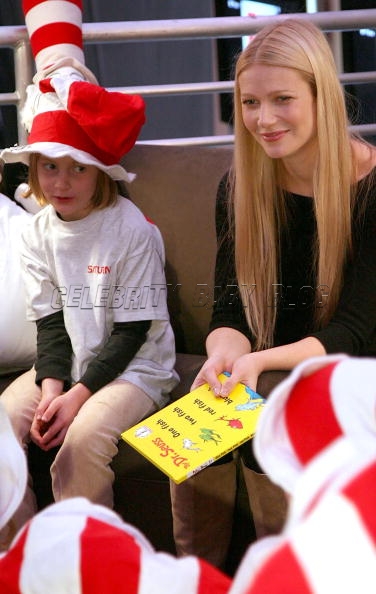 The introduction to the book was written by Gwyneth Paltrow. What parenting advice does she give? A sneak preview?
Yes, Gwyneth did write the foreword to Rock Star Momma and for her contributions I am forever thankful. She is an inspiration to woman everywhere and I am so happy to have her as part of Rock Star Momma. She also offers great style and fashion advice throughout the book. A favorite tip is one where she talks about a vintage kimono from Japan. You'll just have to check it out for yourself to read more! Her practical advice is priceless!
Have you always wanted to publish a book? The idea for the book is great – who came up with it and how long have you been working on the book for?
To be honest, the thought of writing and publishing a book was never a strong focus in my life. But then again, if you were to ask me about all the other accomplishments in my life and how they came to be the answer would probably be the same. I've always been very focused in my life and have always strived for more. I never thought I would've spent nearly a decade at MTV working with the most inspirational and accomplished people in the entertainment business. I traveled the world and experienced some of the most fantastic moments in my life. I also met the man of my dreams while working at MTV and the next chapter of my life began. I always knew that I wanted to be a wife and mother and upon meeting my husband, all my dreams were soon realized.
To get back on track here and answer your question, the idea for Rock Star Momma began shortly after the great (and sudden) success and recognition of Childish Clothing. I had worked with some celebrities, which heightened the awareness of the collections and the work that I was doing. That recognition gave me the platform and credibility to start writing Rock Star Momma. It took a good 2 1/2 years to research and write this guide.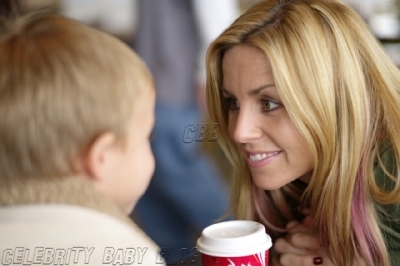 What parenting advice do you have for everyday moms and working moms as well?
The best advice I can give is to have fun with your kids. And have fun with your family. Life really is too short – the cliché is right! I think that in our modern age, women and parents are faced with an abundance of information when raising their children that becomes almost overwhelming. Parenting is probably the most difficult yet rewarding job one will ever have. And you make the most important decisions and choices when being a parent. To list a few… breastfeeding or not, circumcision or not, pacifiers or not, private school vs. public school, nanny or no nanny, daycare or stay at home… the list goes on and on. Educate yourself with the facts, not opinions of those around you. What might be right for others, might not be for you.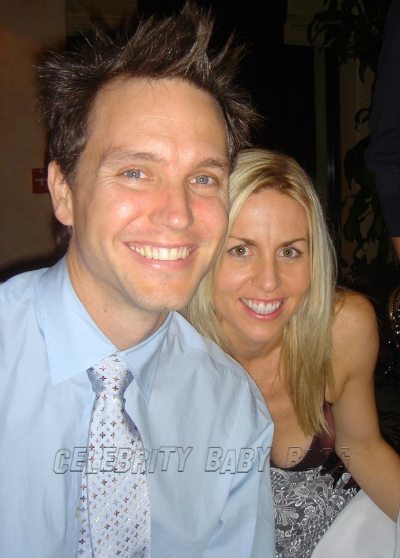 As far as mothers that choose to work, again, it's such a personal choice. For me, I am a better mother and wife when I am working, as my work is an extension of me and something that makes me feel incredibly proud. I know that I set a great example for my son and I believe that sharing and instilling a sense of work ethic to your children is something so invaluable. The "mommy wars" that have been so talked about the last couple years are so unfortunate. Why would we wage war against ourselves? Some women don't have the ability to stay at home and not work, whether it's for financial reasons, or other reasons. Being a great mother has nothing to do with whether you work or not.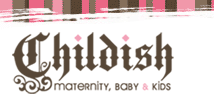 What was the impetus for creating Childish Clothing? How did you come to pick the name?
Childish Clothing was naturally born shortly after I gave birth to our son in 2002. I had stopped working full-time with MTV just before I got pregnant and during my pregnancy I worked on a few shows as a consultant and I knew that when I became a mother that I did not want to work full-time in a corporate environment. After I was so frustrated with the lack of great, stylish maternity wear and realizing how much I loved improvising with my wardrobe during my pregnancy, the idea of starting and designing a maternity collection was so rewarding. The name Childish, I must admit, was something that I "Google'd" when I was thinking of words that reflected the vibe I wanted Childish to have as a brand.&nb
sp; I feel that it's so fitting for all my collections and I love the name!
What inspires you for Childish?
My inspirations for designing and developing Childish come from so many different places and people. I'm fortunate to be able to travel so much and be exposed to all different styles of design. I draw a lot or inspiration from London and Japan, not surprising since both are Mark's and my favorite places to travel. I think both cities are more forward thinking in their design and definitely more cutting-edge.
I must say though that a constant inspiration for Childish comes from my husband and son.
Childish Clothing made its debut in 2003- how has it developed over time?
WOW, we have grown so much in just 3 short years! We now have accessories and jewelry and apothecary in our collections – something I only once dreamed of incorporating into our line. We have an established and loved name in the kids' and maternity fashion world and I am just so proud of what we have accomplished.
What tips do you have for mothers for dressing children or dressing themselves during pregnancy?
Well, you'll just have to check out Rock Star Momma for all the best tips of how to look good and feel great during your pregnancy. As for dressing the little ones, personal style is equally important for your kids as it is for you so allow your children to be involved in the process. You never know, they just might surprise you!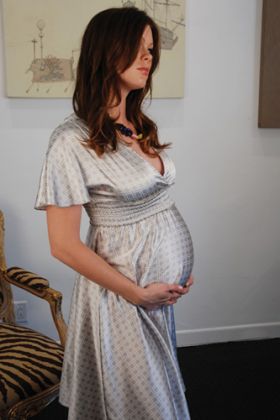 What are your favorite Childish Clothing pieces for the summer, for kids and mamas? What's selling best?
I really love all our smocking dresses we have in our summer collection for pregnant gals. I also love our "Sofia" [pictured left] and "Maggie" dresses.
For little ladies, our basketweave track suits are selling really well, paired with our puff sleeve jersey tees or ribbed tanks. ADORABLE!
For little guys, our drawstring board short swimtrunks in our exclusive chainlink and tire treads designs are super cool and simply perfect for summer. We sell those with matching flip flops in the same designs. And our underwear sets, adorably packaged in a reusable paint tin can are definitely a must-have! Check out the boy boxer briefs and girl low-rise panties! Your little ones will love these!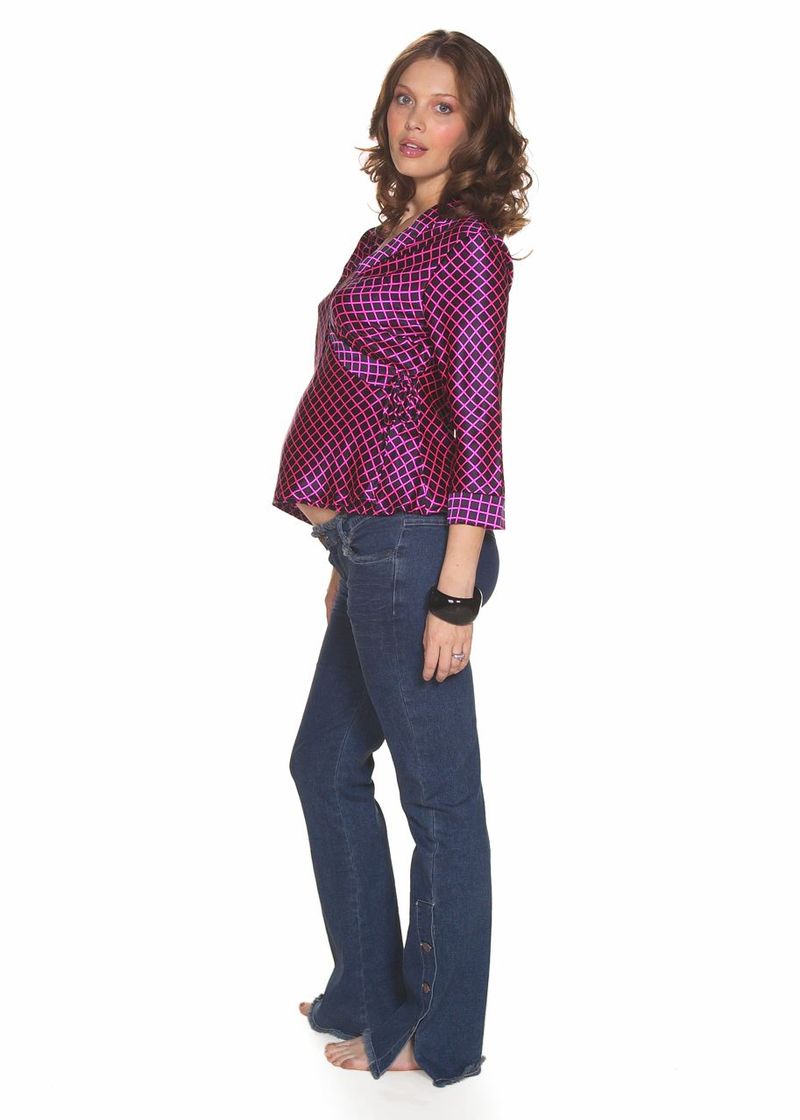 Who are some of your celebrity clients and what items do they love?
I don't like to "dress and tell" but I can tell you that we are so lucky to work with and have worked with some of the most beautiful leading ladies! I can tell you that they all love our GP jeans [pictured right, named after Gwyneth Paltrow], truly an amazing pair of maternity jeans! You can check out our Press section on www.childishclothing.com to see all your favorite celebs wearing Childish.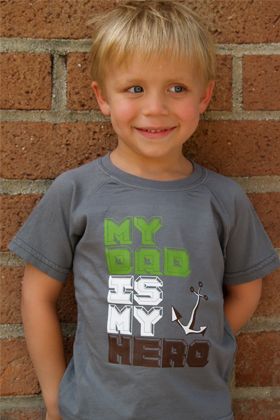 Does Jack have any favorite pieces?
Jack's favorite pieces include our MY DAD IS MY HERO shirts [pictured left], board short swimtrunks, flip flops and underwear. Oddly enough, those are our best-selling too!
[Exclusively for Celebrity Baby Blog Readers: Save 25% at ChildishClothing.com when you use coupon code MOMMA. (Expires 8/1/07)]
What is your most loved items that you use for Jack?
My favorite and most loved items I use or have used for Jack include:
Do you still use a stroller? If so, which one? If not, which did you use?
No, I currently do not a stroller. I haven't used a stroller in a very long time. The last stroller I used was my dear friend Sharon's jogging stroller that I borrowed and never gave back! Oops.
When Jack was a baby, I loved my Inglesina stroller and could NOT live without my Universal Car Seat Carrier by Kolcraft. It's this streamlined infant seat carrier that allows you to easily transfer your baby from the car to a stroller without having to wake a sleeping baby.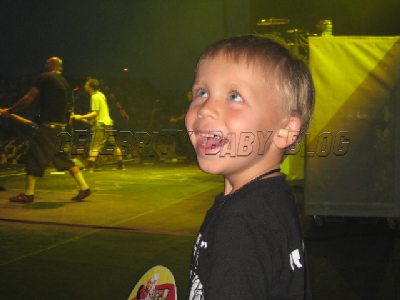 Tell us about Jack's personality. What does he like to do and play with?
Jack is such a cool kid. He's always happy. The most amazing feeling is seeing the sheer joy and innocence in your child. Jack is such a loving and kind kid. He is cautious and his love for learning amazes me everyday. He learned to read last year – yes, he was reading the books his friends' gave him at his 4th party last year. And I know how much parents like to brag, but it's not about that at all here. We have a lot of teachers in both our families and I can tell you that Jack definitely has the love of learning in his blood. Jack's favorite things to do are swimming, playing on his computer
and hanging out with his friends. He has a great group of friends from the neighborhood and school and I am so thankful that he is learning the value of friendship at such a young age.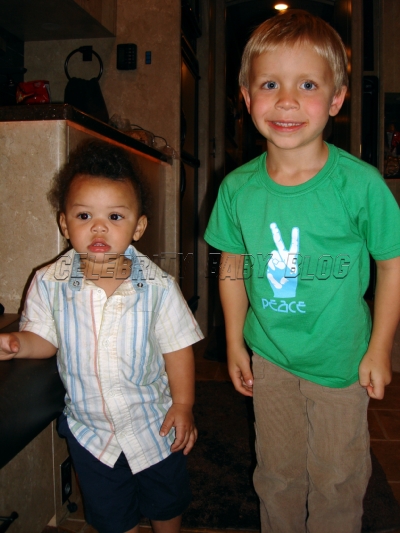 How does Jack seem to feel about having Mark travel so much?
I'll preface this answer with the fact that Jack had a passport before his first ! And he's already traveled around the globe a few times!! He is a great traveler and I know it's from all the planes, trains and automobiles he's been in! He's always up for the adventure and he loves being in new places. Jack and I travel quite often to visit Mark on tour. Both Mark and I believe in the value and importance of your family and have always put that importance first. Most of our travel revolves around Mark's tour schedule. I'm actually answering these questions right now on a tour bus while driving from Indianapolis to Charlotte!
Jack and I are out on tour right now with Mark on the Fall Out Boy/+44/Paul Wall tour. Of course, Jack misses his dad while he's away but he understands that this is part of our lives and that daddy's job just happens to be one that travels a lot more than others. (pictured: Jack and Paul Wall's son Will Patrick Slayton, 16 months)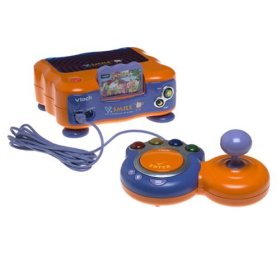 You told me that Jack has a playroom at your office- what does he do there?
Yes, I moved my offices to a building across the street from my son's school so that I could take him to school every morning and be able to pick him up every afternoon. We then go to the office and upstairs in my office, I dedicated a corner to a place all his own. He has a TV with a Vtech computer system
for playing games. I also keep loads of art supplies as he loves to paint and draw. He usually comes over with his friend after school, they hang out with me there for a bit, then are off on their way to do something adventurous.
How has Jack influenced your work?
Jack is a constant inspiration for what I do at Childish. Most of my designs stem from ideas and thoughts that I get from being a mom to a really cool kid.
Does Jack understand that you and his dad are famous?
I am no where near being famous and Mark has never considered himself "famous." We just live our lives as a family, the same way as our friends and neighbors.
Are you and Mark planning for more children?
We would love to have more children…. you never know what the future holds!
All week long we will be featuring exclusive giveaways, excerpts, articles and fun quizzes related to Rock Star Momma so stay tuned!
---

You can order your copy of Rock Star Momma: The Hip Guide to Looking Gorgeous Through All Nine Months and Beyond
at Amazon.com.
Exclusively for Celebrity Baby Blog Readers: Save 25% at ChildishClothing.com when you use coupon code MOMMA. (Expires 8/1/07)
Gwyneth Paltrow photo: Getty Images, all other images Skye's personal photos for use exclusively on the Celebrity Baby Blog.