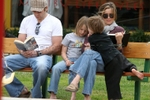 Téa Leoni has found herself addressing the birds and the bees alittle earlier than expected. The actress reveals on Late Night withConan O'Brien that Kyd Miller, who turned 5 on Friday, is veryfascinated by and curious about all things related to sex.
For his fifth , you think you can go out and get himsome Legos or something, but nothing can compete with his newfound toy,which is his penis. I don't see him ever giving this up. He startedsort of pulling and tugging a year ago, but it's really interesting.He's sort of discovered that it can do tricks. Not that long ago, wewere getting ready for bed and the kids were in the bathroom and mydaughter [Madeleine West, 8] looks over at my son and says, 'What isthat?!' And Miller is sporting this adorable little woody and bless hisheart, Miller looks down and goes, 'I do not know.' I just said, 'Goask your father [David Duchovny] cause he has one and you guys can -oh, just go.' It's weird.
Téa, who thinks someone with an older sibling at Miller'sschool is feeding him the information, says she and David field otherquestions too.
He's very interested in sex at an early age, butvery innocently. He asked us recently did we know what 'hot' means. And Isaid, 'Do you mean like hot when you must take off your sweater?' Andhe goes, 'No.' And I said, 'Oh God, what does 'hot' mean?' And he said,'It means you're sexy and you have a pretty vagina.' And this was alittle shocking, but the best part is when he wants to tell you hisidea of making out. He said that making out was – you have to get thepronouns on this – when you put your penis in your vagina.