Brooke Burke explains her body after baby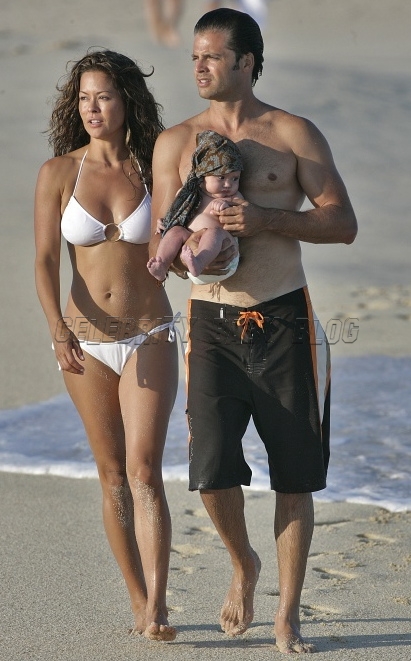 After the 'cute baby' reaction to these photos, many people's second thought was, 'Why does Brooke Burke have that body after three kids?!' Brooke explains in the latest issue of People.
At 35 and having my third baby, I didn't know if I was ever going to get back in my bathing suit! I worked out up until a week before delivery [on January 8th].
Brooke gained 30 lbs during the pregnancy, but says she 'didn't do anything crazy' to lose the weight. Days after Heaven Rain's natural birth, Brooke begin Pilates classes three times a week. She also eats several small low-carb, low-sugar meals a day. Brooke, who is nursing Rain, 5 months, also munches on almonds and protein shakes to increase her milk supply [supply issues can be common in women with implants].
The best post-birth tip, however, came from her mother-in-law Christiane Charvet, who suggested Brooke wrap her post-partum belly in an ACE bandage for a month to help reduce swelling.
I swear it helped everything go back — I definitely got in shape quicker the third time around.
Brooke says that she's 10 lbs away from her pre-pregnancy weight, but is pleased with the way things are shaping up.
I'm happy with the way I am right now — but I have a little ways to go!
Source: People, June 25th issue, p. 145