Shiloh Jolie-Pitt's in Love with Swaddle Designs Lovies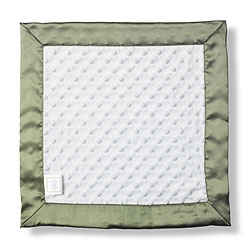 In a recent issue of US Weekly, Shiloh Nouvel Jolie-Pitt was pictured grasping her Lovies from Swaddle Designs ($15.95). These soft cozy comfort blankets offer a variety of textures to soothe and comfort small travelers.
Made with small fingers in mind, Swaddledesigns Lovies have a variety of textures from flannel to bumpy velour, to fluffy fur, all backed and trimmed with satin. Shiloh carried the Fuchsia Polka Dot in Flannel and White Plush Dot with Sage Satin designs, both available at Bunnybury Baby. Babies love to hold smooth satin against their skin and faces. The texture is known for its ability to soothe and comfort, and pediatricians recommend the use of such security objects. These mini blankets are baby safe, perfectly sized for portability and are easy to throw in the wash as needed.
Danielle was a big fan of Swaddle Designs' swaddle blankets- she even picked it as one of her five favorite baby items in Earnshaw's magazine. Brooke Burke and David Charvet swaddled their daughter Heaven Rain Charvet in the pink polka dot blanket in her Hello magazine debut and Gwyneth Paltrow used one with daughter Apple Martin.
Swaddling soothes babies by reminding them of the warm coziness of thewomb, helps control the jerky motions that wake them up and keeps themwarm. Anya spent no less than 50% of her first two months swaddled. You can use any thinblanket that's around 42"x 42" but the Swaddle Designs Swaddle Blanketis the right size and thickness plus it includes a label withinstructions on how to swaddle. You'll need it the first few times butafter that, you'll be swaddling in the dark like a pro.
Did you swaddle your baby?