Watch "The Keri Kronicles" on MySpace!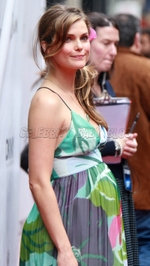 CoverGirl spokeswoman and soon-to-be new mom Keri Russell's web reality show The Keri Kronicles debuted exclusively on the CoverGirl MySpace page today. The monthly series gives an in-depth look at Keri's life as she prepares for and tackles motherhood.
The first episode was filmed this month and finds the Waitress star shopping around the West Village for baby supplies.
There are so many things that I don't have. I don't know if I'm having a boy or girl, first of all, so it makes shopping for baby stuff a little hard.
Keri, 31, will also personally answer any questions left on the MySpace page and urges viewers to check back next month as she would have a lot more to talk about.
Next month, I'll have a baby, so come back and there'll be all sorts of new news about that!