Keri Russell digs Albert
I was so jazzed when I saw this photo of Keri Russell in Life & Style magazine at my mother-in-law's favorite boutique, Erica Tanov, in Nolita, in NYC. Keri's holding a bubble outfit from Albert New York, designed by my friend Edie Ure and her partner Ulla Johnson. They specialize in eclectic romantic yet sophisticated Victorian-inspired pieces and gorgeous screenprinted onesies for girls from 3 months to 4 years.
Here Keri is holding their Butterfly sun suit ($57), which features tiny sepia butterflies on ivory background and oversize buttons at the shoulder. We don't know if Keri actually bought this outfit or if she's even having a girl (she says doesn't know the gender), but we hope so because it's so sweet and perfect for summer. Thandie Newton and Jen Meyer are also big fans of the line.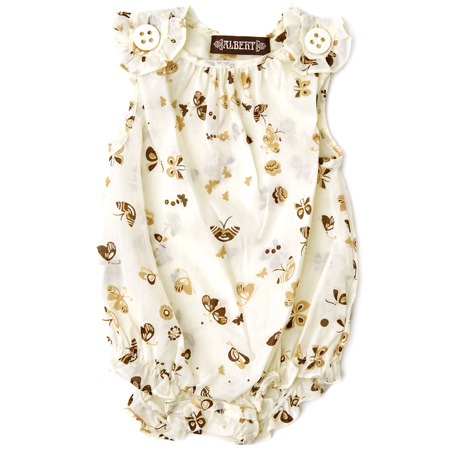 Albert New York is sold at Erica Tanov, Barneys New York and online at Arte Bebe and ShopWithLove.net.