An Upscale, Modern General Store for Children and Women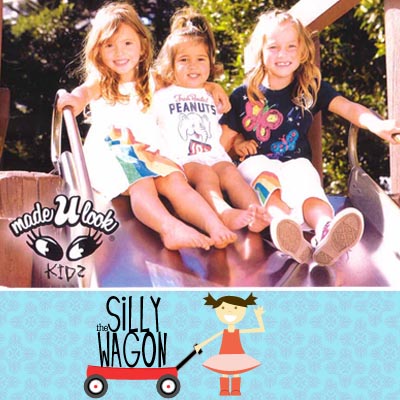 We have the t-shirt that ALL the cool kids want- Made U Look's Rocket tee as seen worn by Pax Jolie-Pitt.We carry sizes 6 months up to 6T. We even have the coveted, "IT" Rainbowdress for the toddler set, it may be SOLD OUT everywhere else butnot at The Silly Wagon. Wehave all sizes in stock now. We even carry Made U Look women's tees.
The Silly Wagon also has such joyful and fun brands as Oilily, EdHardy Kids, Baby Nay, Appaman and Mish Mish. Plus tons of amazinghard-to-find indie designers! Soldered jewelry, art, furniture, gifts,and toys.
Exclusively for Celebrity Baby Blog Readers: Jump on The Silly Wagon andreceive a 10% discount by typing in the coupon code CBB10 (expires 6/30/07).
Click here to see more of Anya modeling her Pete's Puppy Camp outfit from The Silly Wagon.