Lil Rock's second birthday party
Rodney 'Lil Rock' Hill celebrated his second with a party on May 19th. He grabbed a bite of cake from dad and gave mom Monica Arnold, 26, a kiss!

Source: Sandra Rose Thanks to CBB reader Jessie.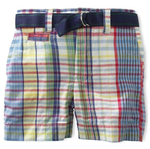 Lil Rock wears Ralph Lauren Infant Boys Cotton Madras Short in Blue Multi ($40; 9-24 months).
Click below for a family photo, and a pic of Lil Rock with mom and his godfather, Ludacris.