Kevin Costner: "All of my kids are showered with love"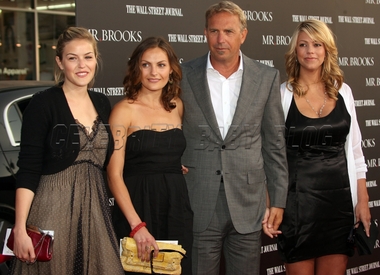 Before the May 6 birth of his son and fifth child, Cayden Wyatt, with wife Christine, Kevin Costner sat down for a Q&A with Good Housekeeping and spoke about his excitement over being a father again and the close relationships he has with his other children, Annie, 23, Lily, 21, Joe, 19, and Liam, 10.
While many people think they're better parents the second time around and so forth, Kevin feels the exact opposite.
I feel really good about the kind of dad I was the first time around. I was there for all the little moments, like when my kids forgot to sing in their school play because they were too busy waving at me. I can't wait to have those moments again.
At 52, Kevin says he's not concerned about being an older dad either.
I don't kid myself about certain realities: I won't be around to see as much of this one's life as I'll get to see of my older kids' lives. So with him, I really want to be there for every single moment that I can.
The Mr. Brooks star also couldn't wait to shower Cayden with love and affection, which he says all his kids have an excess of.
All of my kids are showered with love, which is what's important. I didn't have much as a child, but if you'd asked me back then, I thought I had everything. We had this dinky backyard in Compton, CA, and I thought it was a kingdom. I've always taught my kids that they have to work hard and stand on their own two feet.
Kevin has instilled such a strong sense of self-reliance and hard work that Annie placed herself on a shopping budget since she's starting out on her own. As a result, Kevin took her on a shopping spree, which he loves doing with his daughters. He and his kids also bond over their shared love of music – Kevin performs in the rock band Modern West.
My son Joe is a great songwriter and my daughters both have bands, and I really enjoy singing with them too.
The actor says he sees no differences in raising boys and girls, except for maybe one thing.
I've always been really close to my girls, but I can't say I see much difference — except that my girls will occasionally make me a sandwich and my son won't.
As for Father's Day, Kevin says he's not expecting any lavish gifts from his children.
No, I get enough attention already. But if I didn't get a phone call from my kids, I guess I'd miss it. Not that that's a hint or anything…
Source: Good Housekeeping
Do you find raising daughters vs. sons different?