Brooke Shields relocating to NYC for new show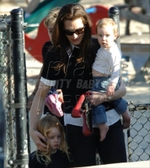 Now that her new dramedy Lipstick Jungle, based on the book of the same title by Sex and the City novelist Candace Bushnell, has been picked up by NBC, Brooke Shields has a full-time television gig on her hands that will find her shooting on location in New York City. The actress plans on bringing her daughters, Rowan, 4 tomorrow, and Grier, 13 months, back to her hometown with her while having husband, producer Chris Henchy visit on weekends.
He'll commute. He's going to come Thursdays to Mondays. I've been wanting to get back home for so many years. It's really good for me to just to be here. And my kids just love it. I take the kids every day to a different museum and the park and just experience the diversity of the city.
As previously reported, Brooke is heading the Chain of Confidence campaign with Tupperware, the direct focus of which is to provide a strong support group for women and strengthen female relationships. She says her closest girlfriends were the ones who helped her get through postpartum depression.
Absolutely! My poor husband was taking care of the baby, and my girlfriends would come over and stay with me. It was a network of females who knew something was really wrong. That was really huge for me.
Nowadays, things are looking up for Brooke, although she says that life isn't always rosy, but there are some things she can depend on.
It always has the potential to go either way at any given time, but there are certain things I can count on: the love of my children and for my children, my friends.
Lipstick Jungle is slated for a January Sunday night premiere at 10 p.m. on NBC.
Source: TV Guide