Keri Russell reflects on pregnant role and looks forward to motherhood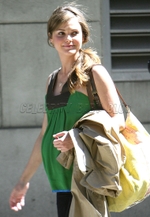 Waitress star Keri Russell is in the home stretch of her pregnancy andis pleased she's had a pretty uncomplicated nine months, pregnancybrain notwithstanding.
I'm very close to theend. I'm having a great and really easy pregnancy, comparedto my girlfriends. This is my first one.
Herexcitement for impending motherhood and her new film, in which she plays a pregnant waitress, is tempered by thedeath of its director, writer and star, Adrienne Shelly, who wasmurdered in her New York City office in November, leaving behind herhusband Andy Ostroy and 3-year-old daughter, Sophie. Sophie has a smallrole in the film, a cameo Keri and co-star Cheryl Hines were deeplyaffected by when they attended a screening.
Wesaid, 'You know, we don't have to get sad about this. Let's try toenjoy this. It's a happy movie.' But as soon as that kid comes on atthe end, it's just like, 'Jeez.' It'sright there…[Andy] is a great dad and a great husband. I've seen them and they're doing the best that they can.
Source: Boston Herald