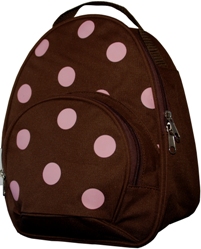 My daughter went through this stage when she was just short of a year where she would stuff all her toys in a little backpack and spend hours just emptying the bag and filling it back up again. As a parent, this was a wonderful stage to live through because it meant we could take her to parties without any worries since we knew that if we sat her down with her book-bag in hand she'd have a blast! As a result, I have a soft-spot for child-sized backpacks and the Four Peas Backpacks are, without a doubt, my favorites.
I love these backpacks so much that I actually own two of them. One of them (the Later Gater) goes to grandma's house everyday, and traveled to Europe with us last year, and it has stood the wear and tear of a year's use with zero problems. Our newest one (the Polka Dots) gets used on the weekends and now that Catie is old-enough to actually wear it on her back, it gets followed by lots of compliments.
The two backpacks we own are toddler sized but we will definitely be getting a school book sized one when the time comes. Not only are these packs sturdy but the prints are also adorable. I love the Girly Camo one!
Also totally brilliant and from the same company are the Kids Activity Packs. It was all I could do to keep it away from my daughter once she discovered there were dress-me-up stickers in there. I am saving it for a rainy day — namely our six hour flight to Europe this summer! Filled with activities that kids can't resists (stickers, crayons, a doodle pad, toys, a deck of cards with instructions for a game and more) the Activity Pack is a MUST if you are planning a trip away with your child.
I highly recommend both these items. Check out the selection at www.fourpeasonline.com.
Exclusive for CBB Reviews Readers: Four Peas is offering a FREE MINI ACTIVITY PACK with any purchase. Enter code CELEBRITY-BABY in the comments section during checkout to receive yours.