Tobey Maguire talks fatherhood and marriage on Letterman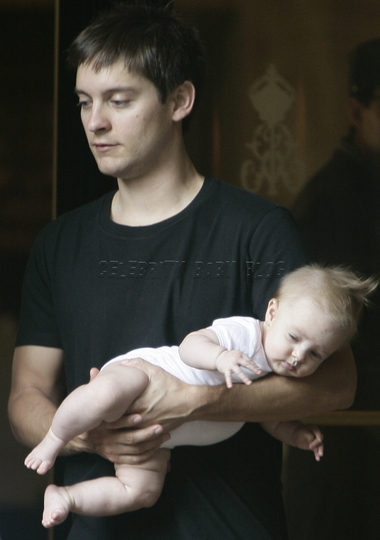 Tobey Maguire appeared on The Late Show with David Letterman last nightand mentioned his daughter Ruby, 6 months next week, with fianceeJennifer Meyer. The actor said Ruby is all he thinks about nowadays anddiscussed how his life has changed.
It's a very dramatic change. My whole life is in transition now withfriendships and where I'm gonna live, you know, just your wholeperspective. It's great. She's so adorable. She's just a smiley, littlebeautiful thing.
In addition to being fathers, Dave also pointed out something else thetwo have in common – neither of them are married. Dave, who has a sonHarry, 3 1/2, with longtime fiancee Regina Lasko, joked that it's "hardto get away with." Tobey says he's only been engaged for a year, towhich the host responded with,
Oh yeah, me too. I've been engaged for quite a while.
Getting serious, Tobey gave Jen a shout-out and assured that they will tie the knot one day, in a small ceremony most likely.
I just want to say on that subject, I'm very excited to marry Jen and I love you very much.
As for expanding his brood, the Spider-Man 3 star certainly isn't ruling that out.
That's a possibility.