Steal That Look, Forty Weeks Style: Jenna Elfman

by Julia Beck, of Forty Weeks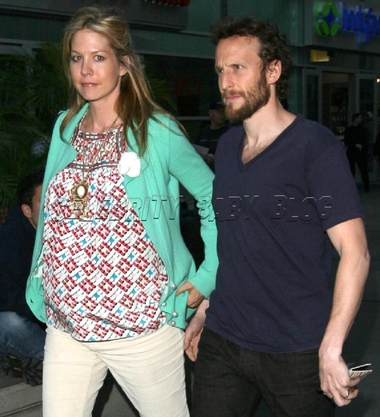 Jenna Elfman and husband Bohdi (who are expecting a son early this summer) were spotted out and about in LA. Jenna has perfected the art of the effortless bump. And how we love the way she is showing in her signature style! She takes the cake on this one by incorporating color, ethnic influences and strong accessories. Jenna has a knack for making it look easy – and that combined with her natural beauty makes for a winning look!
Here is what to keep in mind when Stealing Jenna Elfman's Look, Forty Weeks Style.
*Layering finishes the look (and offers extra comfort too) – a cardigan works in either a crop or full length for spring.
*Flower Power – floral fabrics are an excellent way to bring some pop and color into your wardrobe.
*Accessorize – Look for a great necklace like Jenna's that will be a favorite now and later to add a little extra pizzazz.
*Add detail – look for buttons, trim and knits that feel special and bring out "your signature look."
*White pants look crisp and new for spring (and summer). Opt for this light look to welcome the season.
Steal That Look, Forty Weeks Style – We Love Layers!
Layering with carefully chosen pieces will create an irresistible end result! The recipe? Start with a clean white bottom, add some flower power and finish with a soft layer of cardigan and a great necklace for a delicious take on a spring dressing.
Tops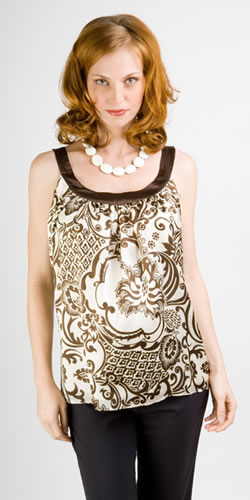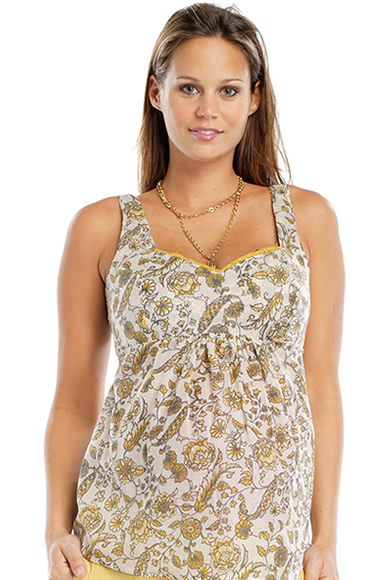 One of my favorites this season is stunning retro inspired silk scoop top by Cadeau. I am a fan of the fabric and the wide band detailing which pair perfectly with almost any skinny bottom.(left, $200)
Made of soft cotton and silk, this easy to wear Olian top makes a super feminine statement! Great detailing at the bust and back make it a must spring must have from Belly Dance Maternity.(right, $74)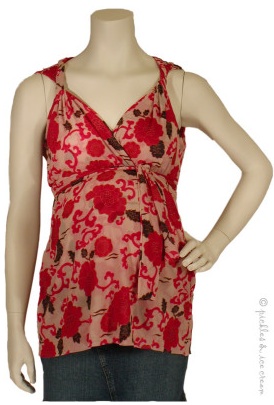 The bold, vibrant red floral makes this scoop neck red floral top a fun choice. The rich colors of the top will really pop against a crisp white bottom. (left, $89)
Cardigans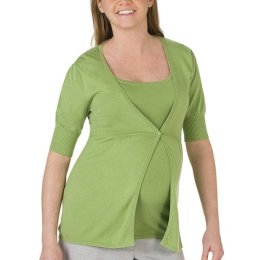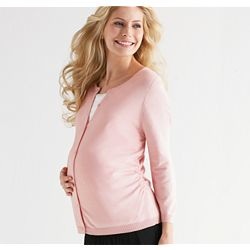 I like the short-sleeve detailing and the single button closure on this springy green cardigan. This easy to care for rayon cardi by Liz Lange comes in white as well. (left, $19.99)
Duo's ¾ sleeve cardigan (shown blush pink and also available in black) is a find! Side ruching and pearlized buttons give this extremely well priced cardigan major bonus points. What's more it is also available in plus sizes and is on sale. (right, $24.99 – $29.00 on sale)
Pants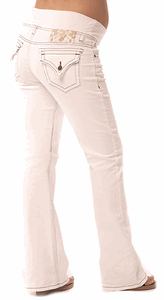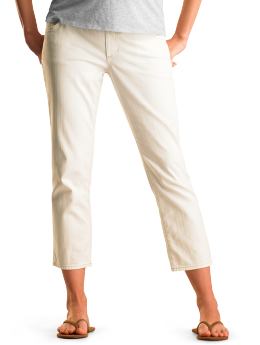 Bella Dahl's five pocket poplin maternity pants are about as cool as it gets for summer whites! These have brown contrast stitching and a super comfortable under the belly waist that will take you through an entire pregnancy.(left, $189 and save 15% at Due Maternity when you use code cbb15)
White denim Capri pants from the Gap are a sleek and comfortable choice. These have five pockets and contrast stitching as well as a rolling waist (they call this one a demi panel) that can go above or below the belly.(right, $58)
Accessories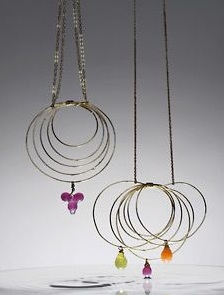 Susan Hanover caught our attention late last year. Check out her line of necklaces for a little something extra for now and later!