Heidi Klum and Johan Samuel eat lunch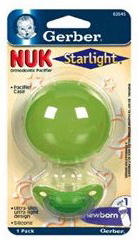 Johan Samuel, 5 months, sits on mom Heidi Klum's lap while they eat lunch on Sunday. Afterwards, the family visited the beach – we posted photos from the outing yesterday. Johan sucks on a Gerber Nuk Starlight pacifier ($5).
Thanks to CBB reader Kristen.