Gina B. International Bella totes: Multi-tasking mommy's bag in a bag
by CBB Fashion/Gear Editor Ciaran
Working moms like Brooke Burke and Rena Sofer always look fantastic and well organized, no matter what they are up to. Could it be partly because they both own Gina B. International Bella totes? This clever bag inside a bag is a multi-tasking mom's best friend.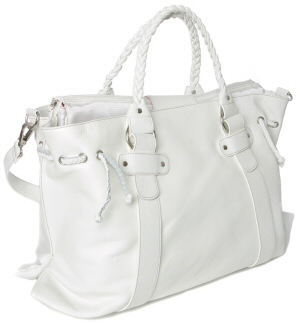 The business-like heart of Bellais a canvas and leather laptop sleeve. It has a well organized sidepocket with slots for pens, cellphone and id. It fits up to a 15.4 inchlaptop and nestles perfectly inside the Bella tote, with room for moregoodies. Or, if you prefer, the sleeve can be carried on its own, withthe included leather strap.
The outer shell – a gorgeous tote, is made from soft pebbledleather. Braided handles, side ties and a hot pink lining keep it fun,fresh and feminine. There's plenty of spare room inside for all ofbaby's essentials. And a script or two. The tote comes in three colorsbut white is the hot choice for spring in Hollywood. Both the sleeveand tote are made to cleverly attach to a bag trolley that is sold seperately. It's a real lifesaver when it's time to take your show on the road.
If you are a busy mom who does not want to choose between a laptopbag and a diaper bag, you don't have to. You can have it all. In style.
Exclusively for CBB Readers: Save 10% when they mention Celeb Babies in the comments section at checkout.