British actress Hermione Norris expecting baby #2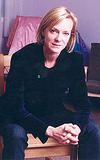 British star Hermione Norris and her husband, TV producer Simon Wheeler, are expecting their second child this August. Hermione, who has starred in such shows as Spooks, Cold Feet and Wire in the Blood, says the pregnancy comes after a year of doubting that she and her husband would be able to add to their family of three, telling the Daily Express,
It's a dream come true. It's no secret that my husband and I have been trying to have another child and I am incredibly excited at the prospect. ." I always wanted another, I didn't want Wilf to be an only child so I'm really excited to complete our family."
The couple's son Wilf is 2. Hermione says she's not sure how he'll feel about being a big brother.
I'm not sure what Wilf makes of the idea of having a brother or a sister. We have heard him utter the phrase 'Don't want new baby, just Wilf'. But I'm sure he'll come round to the idea!
The actress says that although she's thrilled about the baby, her actual pregnancy isn't the most enjoyable or comfortable period of her life.
No, I don't bloom like other women- I just feel uncomfortable and sick. It's strange as you're utterly powerless during the whole thing. You can't drink or you hurl; you have to sleep when your body demands it-you've no control. But the end result's worth it!
Along with the uncomfortable pregnancy, Hermione is worried about going through another bout of post-partum or post-natal depression.
I so feel for women who have PNT because what happens is you're given the most precious gift in the world-this child- and yet you feel down. It's baffling and confusing. I know I'll have all those hormones but if it happens again I'll hopefully be more prepared this time and cope better.
However, one thing she's not concerned about is losing her pregnancy weight.
I pinged back much to my friends annoyance! I don't feel pressurised to get back into size 8 jeans. I hate all that "yummy mummy" stuff. I don't buy into it at all. I love chips and chocolate and as long as I get my vitamins from vegetables I'm happy. Life's too short to worry about a few pounds.
Source: My Notting Hill.com
Thanks to CBB Reader Christine M.