Tobey Maguire's skydiving dream nosedives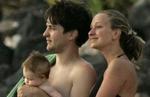 The only high-flying action Tobey Maguire is going to get is from being Spider-Man. The star says he's thought about bungee jumping and skydiving, but he won't go through with it now that Ruby Sweetheart, 5 1/2 months, is back at home.
I'd consider skydiving now, but my fiancee [Jennifer Meyer] is like, 'Tobey, you're notskydiving.' It would be a shame if something happened and I missed mydaughter's life. That would be a drag.
Source: Chicago Sun-Times