Virgie Arthur tries to prevent Larry and Dannielynn Birkhead from leaving The Bahamas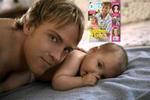 Virgie Arthur has filed an appeal in a last ditch effort to prohibitLarry Birkhead from returning to the United States with Dannielynn HopeMarshall Birkhead. According to a source,
Virgie filed a last-minute appeal to try to keep Larry in the Bahamasso now he has to be in court Friday. Virgie wants money, so she's notletting the issue go.
On Wednesday, a Bahamian judge granted Larry permission to leave theBahamas with Dannielynn on the condition that he returns for a June 8court date.
The source adds that the recent turn of events shouldn't affect Larry's plans to depart the island this weekend.
Source: OK!