Tori Spelling opens up about her weight gain during pregnancy (and how she plans on losing it)!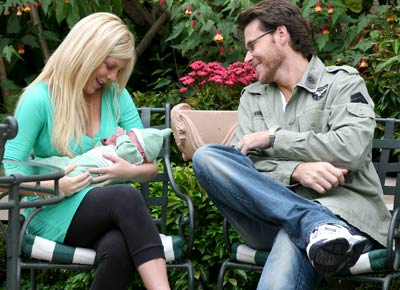 New mom Tori Spelling did an interview recently with Entertainment Tonight's Steven Cojocaru, about the 40 pounds she put on during her pregnancy with Liam, 6 weeks, and how she plans to lose the weight. Tori said that while she was pregnant,
I went back and forth. I would have some days where I wouldfeel really proud of my tummy and walk in front of a mirror and beamazed by it … and I'd have some days where I felt like a whale. Igained weight in places that I didn't know I could ever gain weightin.
Tori joked that she was hoping her weight gain had to do with water retention and the baby himself, that most of it would drop off after Liam was born. To her surprise, not all of it did. Tori now is faced with what millions of women face after having a baby: losing the weight. Her goal is to get back to her pre-pregnancy body of 115 pounds. The program she chose in helping her reach that goal is NutriSystem. When Steven asked how she decided on this plan as opposed to other weight loss methods, Tori said,
There are so many different programs I looked into. Programs where you have to go to a weekly meeting; and you don't have to do that [with NutriSystem]. You get a counselor who is readily available to you, and you can call her whenever you want, but it is not like you have to go and sit through a boring meeting.
This is all new territory for the actress who has never had to diet before.
I have been lucky, I don't know if it was genetics or age. I would eat healthy at times and pig out at times. But I never had to go on a strict diet plan.
At least she's not going at it alone. Tori's husband, Dean McDermott, is also going on NutriSystem to lose his 'sympathy pounds.'
Tori will be in Jimmy Kimmel Live on Thursday talking about her new 'little man,' and how motherhood is treating her thus far – she says, 'I'm on cloud nine 24 hours a day.'
Source: ET Online
Thanks to CBB reader Angela.