Steal That Look, Forty Weeks Style: Christine Costner

by Julia Beck, of Forty Weeks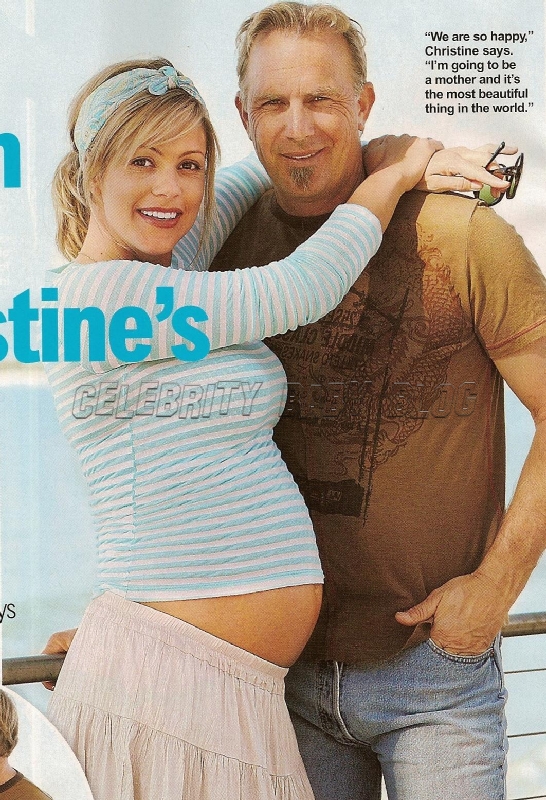 Kevin Costner's wife Christine Baumgartner Costner combined a few seemingly simple separates to create one great look! Christine paired a skinny, three-quarter sleeve, micro-striped t-shirt with a full, under-the-belly tiered skirt. Both were in soft, neutral tones (which really helped Christine get her glow on!) resulting in fun and flattering take on weekend wear!
Here's what to keep in mind when stealing Christine Costner's look, Forty Weeks Style:
*Bare as you dare – going belly bare is not for everyone – and is not necessary to pull off this simple summer look. Consider the same skirt line with a micro-stripe tank with fuller coverage for the same great feel (with a bit more modesty).
*Keep it pale – the stripes evoke feelings of summer and the sea. Keep this look mellow and serine by staying in a lighter color palate.
*Make the skirt work – this skirt will take you many places. Simple accessory changes flip flop to espadrille to wedge for example – will help you to create new looks and really get your wardrobe's worth with this essential summer piece.
*Not too long – pregnancy and tripping don't mix (I could tell you stories!). Not to mention this tiered look has the potential to overwhelm all but the longest of frames if not tamed. Invest in tailoring for a good, well placed hem if need be.
Steal That Look Forty Weeks Style: Summer Breezy
Top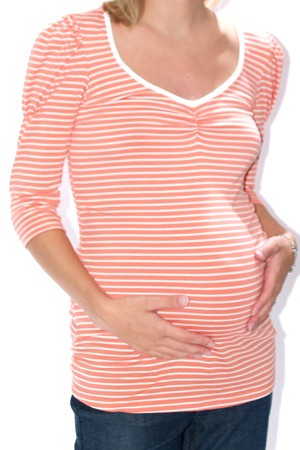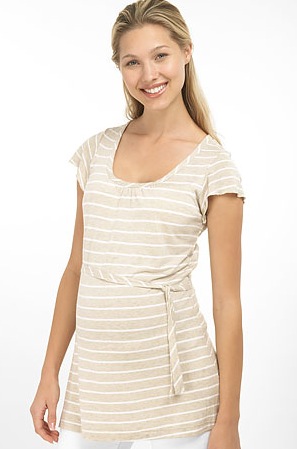 Lait's white and coral stripe top (left, $80) is styled with details sure to delight! The v-neck with accent trim, ruched bust and puff sleeves help to take this from simple to something! And coral is really a great trend color (though not for everyone) this spring and summer.
The soft, easy to wear oatmeal color of this t-shirt has got a lot going for it. The Joie striped scoop T-shirt (right, $74)
is made of super soft and accommodating (this one will take you up and down) mélange. I adore the removable belt, unfinished hemline and cap sleeve. This style is also available in a tank.
Skirts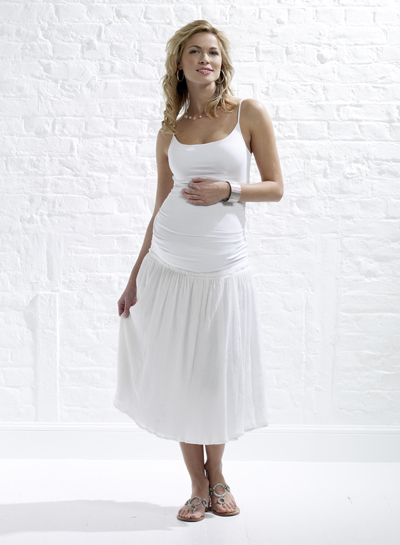 Isabella Oliver's Crinkle Skirt (left, $95) is a super chic departure from their signature line. I have seen this on women of all shapes and sizes and it is a universal stunner! One word of caution – white is revealing so choose your undergarments with care.
Belly Basics, one of the first real innovators in maternity fashion still has it! I am a fan of this easy to wear and easy to dress up full skirt (right, $48).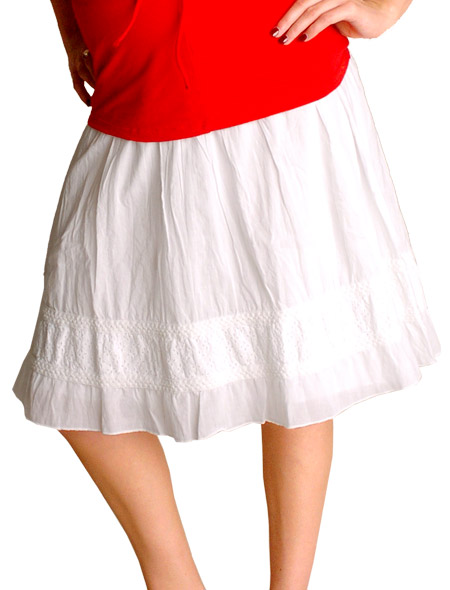 Motherhood Maternity's Voile Skirt
(left, $21.98) offers all the trend of this look at a fraction of the price. A warning – go easy on the laundering – this one will be fast to fall apart if not cared for properly.
Would you wear this look?