Update: Spice Girl Melanie Brown welcomes baby girl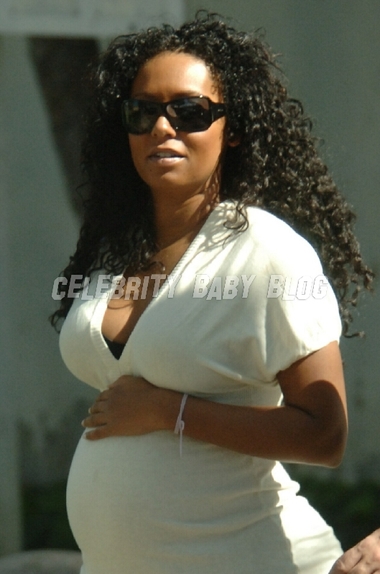 Update: Rest easy, Fortuna haters. Mel's rep told the Associated Press on Friday that that is not the baby's name. Apparently, she's still waiting for one!
Other sites have reported the name to be Nadine Bibi – however, that's Melanie's publicist's name, not her daughter's.
Update April 6th: Brit tab The Mirror reports that the baby's name may be Fortuna Daphne Bay. The Mirror also reports that older daughter Phoenix Chi, 8, brought mom Cadbury chocolates to eat while she nurses the baby!
Originally posted April 3rd:Former Spice Girl Melanie Brown (aka Scary Spice) welcomed her second daughter early this morning. The baby girl, who has yet to be named, was born at 12:11am at St. John's hospital in Santa Monica. Baby Brown weighed in at 5 lbs, 4 oz and is 18 inches long.
According to her publicist,
Mel had driven herself to hospital after experiencing initialcontractions and breakage of waters at home. The birth was straightforward and withoutcomplication. The baby is completely healthy with a good head of hair. No name has been decided on yet, and she is purely known as Baby Brown.
Melanie's mother and daughter, Phoenix Chi, 8, from her marriage to Jimmy Gulzar, were present at the birth. Melanie's mother said,
She is looking forward to catching up on some sleep. Both mother and baby are expected to leave the hospital in the next few days and are looking forward to going back home.
A friend told US Weekly that,
It was an easy birth. The baby's light-skinned and beautiful. Mel is thrilled!
Eddie Murphy is said to be the father of the little girl, but he disputes this claim. The baby was born on his 46th . The same source tells Us that,
Mel said, 'He can read about it.' The baby being born on his is purely coincidence – Mel had anatural birth, not a Cesarean section.
Source: Extra, News.com.au and PEOPLE
Thanks to CBB readers Jade, Michelle, Steffi and Katherine.